California's forests have been hit hard by a double whammy of drought and bark beetle infestation caused by climate change. Forest Service estimates place the number of dead, dying and diseased trees at over 200 million. This is not only an environmental catastrophe; all that dead wood is a ticking time bomb for wildfires. California has a goal to remove dead, dying and diseased trees from one million acres per year, and California has 33 million acres of impacted forests.
But what to do with all that biomass? Current practices are to gather the dead wood into slash piles and then set the piles on fire, releasing decades of stored carbon back into the atmosphere along with particulates and other priority pollutants.
This is where organizations like Kore Infrastructure can make a difference through their modular climate tech solutions. The situation in California forests is just the type of problem that Kore's technology was developed to solve.
Kore has developed technology to convert a wide range of organic wastes into carbon negative energy and carbon sequestering biocarbon. The technology uses high temperature in the absence of oxygen (pyrolysis) to release volatile matter from biomass, forming an energy dense biogas and leaving behind an elemental carbon char. Since oxygen is not present during the biomass processing, combustion cannot occur – this is not incineration, it is thermochemical conversion. The energy dense biogas can then be used to generate heat, power, and/or steam, or it can be upgraded into renewable natural gas or renewable hydrogen.
Recognizing California's growing wildfire problem, the California legislature funded a Forest Biomass to Carbon Negative Biofuels Pilot Program through the California Department of Conservation ("Conservation"). Fifty million dollars were allocated to kickstart conversion of forest biomass to carbon negative biofuels, providing much needed funding to help technologies build reference facilities to begin demonstrating their capabilities.
Project Overview
Based on the successful outcome of a demonstration project with Southern California Gas in Los Angeles, Kore partnered with the Tule River Economic Development Corporation (TREDC), the economic development corporation for the Tule River Tribe of California, to take advantage of this opportunity from Conservation. The Tule River Tribe was the ideal partner because the Tribe already manages 57,000 acres of Sierra Nevada Forest on its trust land located just east of Porterville, California.
Kore and the TREDC received a grant from Conservation to develop the project on tribal land and are currently engineering a facility to convert 50 tons/day of non-merchantable forest biomass into two to four metric tons of carbon negative hydrogen and 10 tons of biocarbon. The facility is being master planned for two expansions, each increasing processing capacity by 50 tons/day increments.
The TREDC will own and operate the facility and Kore will supply the pyrolysis process, gas upgrading, and biocarbon handling systems. Stantec, a global leader in sustainable design and engineering, is currently completing Front End Loading 2 (FEL-2). We expect to complete FEL-3 (Front End Engineering and Design) early in 2024, then move directly into construction. Conservation has been a great partner and has encouraged new technology to flourish. Grants awarded through Conservation help with construction costs, which the TREDC and Kore are working to secure. We expect the facility to begin operating in mid-2025.
TREDC has already begun designing a facility to process forest biomass into pellets. Wood pellets are an excellent feedstock, but the Kore system can process many forms of biomass. TREDC is building the pellet mill so it can begin producing and selling pellets to generate revenue as the Kore facility is being completed.
Indigenous communities across the country are seeing the benefit of owning and operating renewable energy facilities not only as a way to heal the planet, but also to diversify their economic activities. This is a trend that is expected to continue and grow. Renewable energy facilities also provide well-paying jobs and energy sovereignty to the community. The area where this facility will be located is one of the most Disadvantaged Communities in California (as defined by SB 535) and is targeted for climate investment. The project will bring dozens of green jobs and increase economic activity within this community.
Carbon Negative Hydrogen Production
The Tule River facility will generate fuel cell quality, carbon negative hydrogen to decarbonize California transportation. Initially, Toyota Tsusho will offtake the hydrogen for its project to decarbonize the Ports of Los Angeles and Long Beach, the largest point source of CO2 emissions (and priority pollutants) in the state. Toyota Tsusho is converting shipping container handling equipment (e.g., top handlers) from diesel engines to zero emission hydrogen fuel cells using fuel cell stacks proven in Toyota Mirai fuel cell electric cars. Since these fuel cells generate zero CO2 and no priority pollutant emissions, Toyota Tsusho is not only solving a major greenhouse gas problem, but is also helping solve an environmental justice issue for overburdened communities near the ports.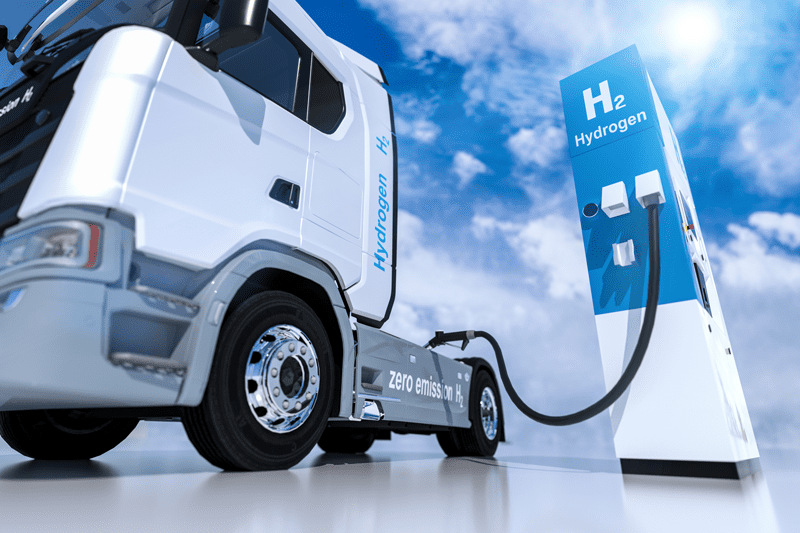 Demand for low carbon hydrogen is growing rapidly. California now has 54 hydrogen refueling stations for light duty vehicles with 29 more in development and another 84 funded, 3 truck refueling stations, and 66 buses converted to fuel cell electric. The Tule River project site has excellent access to heavily traveled Highways 5 and 99 that move people, goods and agricultural products up and down California and beyond. As hydrogen use increases, many new light duty and heavy duty truck refueling stations will be built on and near these highways. The Tule River facility will have first mover advantage of proximity to supply low cost, low carbon hydrogen to these refueling stations. TREDC also operates two traditional fueling stations. Including hydrogen refueling is a natural addition at these locations as local hydrogen demand grows.
Biocarbon Benefits
Kore's technology also produces biocarbon, an elemental carbon co-product with multiple benefits when blended into soils as an agricultural amendment. The Tule River site is located adjacent to California's Central Valley, one of the most productive agricultural regions in the country. Biocarbon provides many soil enhancing properties, including reduced fertilizer use and improved microbial activity resulting in increased crop yields. Perhaps most importantly, biocarbon application reduces irrigation needs by as much as an acre-foot per year, a significant benefit in water-stressed California.
Kore's biocarbon has unique properties: It consists of the fixed carbon and ash in the feedstock. Fixed carbon is recalcitrant; it will not revert to CO2 or CH4 in the natural environment due to the ultralow O:C molar ratio in the biocarbon. This means that soil microbes cannot utilize biocarbon as an energy source. Kore biocarbon used as a soil amendment will remain in the soil for over a century. Biocarbon sequesters about three tons of CO2 for every ton incorporated into the soil. This sequestered carbon can be monetized through voluntary carbon markets whereby organizations seeking to offset their carbon emissions, especially hard to abate Scope 2 and 3 emissions, can purchase carbon sequestration credits from Kore facilities. Voluntary carbon offsets allow Kore facilities to capitalize on the carbon sequestration value the process delivers, providing additional incentive to implement renewable energy facilities.
The Project California Needs
This project is a shining example of California facing a problem and recognizing that the solution requires technology that is not currently available, and the state legislature working with departments to allocate and administer the funds needed to accelerate technology development to solve the problem. This project is also an example of ways the industry can partner with Native American communities to multiply skill sets, engage capabilities, and assist disadvantaged communities for the benefit of everyone.
Steve Wirtel, P.E., is executive vice president, Kore Infrastructure. With a background in civil and environmental engineering, Wirtel is a business development executive with 30 years of experience in the water and wastewater markets.