Because the energy industry has long been a male dominated sector, U.S. Energy Media addresses diversity across the board in all of its publications. But, as is widely acknowledged now, the term "diversity" extends to an energy mix that includes all forms of energy from legacy sources like oil and gas to newer forms of renewables, and devising innovative ways of making them all cleaner and greener as we strive toward lower carbon emissions in our pursuit of a net zero future. This requires what Hurtigruten CEO Hedda Felin, who is our cover interview, refers to as "diverse minds."
While no one would deny that having a workforce with traditional backgrounds in science, technology, engineering and math (STEM) is critical to the energy industry, Felin is a prime example of how the industry benefits from diversity in all its forms. Fluent in six languages (Norwegian, English, French, German, Spanish and Italian), she earned a Master of International Politics and Administration from the Paris Institute of Political Studies (known as Sciences Po), with the intention of becoming a diplomat. In this interview, she shares how the skills she acquired during her long career with Norwegian energy company, Equinor, transitioned to the maritime, transportation and tourism sectors at Hurtigruten, illustrating how energy touches every facet of our lives.
By the same token, the lack of affordable, reliable and sustainable sources of energy adversely affects the lives of those for whom energy is not readily available. Writer Liz Wilder documents the life-changing effects of access to energy in her profile of the nonprofit, Solar Electric Light Fund (SELF), and the work it's doing in Benin, West Africa.
To find out how the energy transition is progressing and where the various sectors are in reaching their goals, read Rana Adib's enlightening synopsis of the Renewables 2023 Global Status Report (GSR2023), which she says, "Highlights an encouraging trend: Renewable energy sources across the globe are on the rise," although there is no time for industry to rest on its laurels in meeting emissions and climate change goals. A link to the full report is available.
In the upcoming Winter issue of ENERGIES Magazine, actor and environmental activist Ed Begley, Jr., whose soon to be released memoir is titled To the Temple of Tranquility… And Step on It! (Hachette Books; October 3, 2023) shares insights from his five decades of activism and how each of us can do our part to contribute to a cleaner, healthier planet.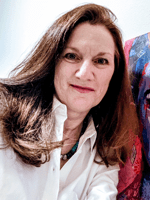 Rebecca Ponton has been a journalist for 25+ years and is also a petroleum landman. Her book, Breaking the GAS Ceiling: Women in the Offshore Oil and Gas Industry (Modern History Press), was released in May 2019. For more info, go to www.breakingthegasceiling.com.