Against the tumultuous backdrop of the year 2022, the Renewables 2023 Global Status Report (GSR2023) highlights an encouraging trend: Renewable energy sources across the globe are on the rise. Released in five modules between March and July 2023, the latest edition of REN21 GSR2023 dives into the renewable energy landscape of 2022, unpacking an unprecedented surge in demand for renewables coupled with record growth in renewable installed capacity. It documents the significant growth of renewables as a reliable, cost-effective solution from a demand, supply and societal perspective. This growth (with renewable electricity surging to a remarkable 30 percent share) is not only essential from a climate perspective, but is also triggering new industrial activities, spawning jobs, and cultivating social value in countries that have embraced renewable energy.
Yet, beneath this positive trajectory, the urgent energy transition falls short of the pace required to meet economic development and global climate targets. At REN21, we've been making this alarming observation with each new edition of the GSR. Year after year, we alert readers to the structural obstacles and bottlenecks hindering the advancement of renewables. With world leaders leaving the G20 meeting in India with a commitment to tripling installed renewable energy capacity by 2030 – this is great news – I want to emphasize the need to urgently address the structural barriers standing in the way of a genuine energy transition.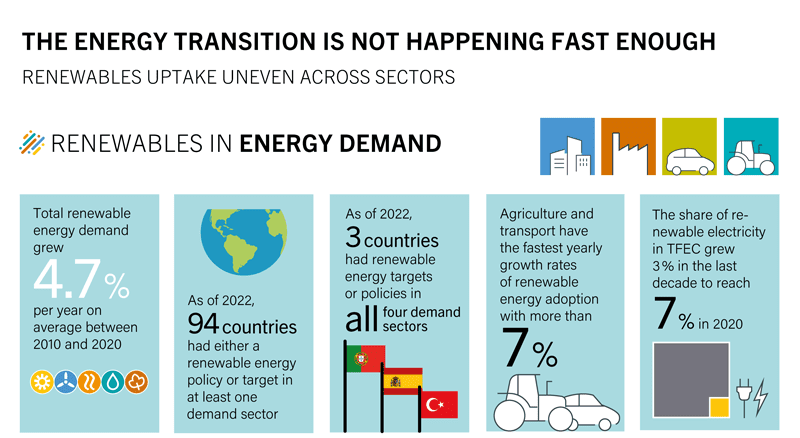 A Surge in Demand for Renewables Across All Sectors
The upward trajectory in renewable energy electrification is clear across sectors like transportation, agriculture, industry and buildings, and has catalyzed further strides in infrastructure development. Thanks to growing investments in electric vehicles and charging infrastructure, the electrification of transport is a positive trend, especially in regions like Asia, grappling with pollution and climate risks. The adoption of technologies like agrivoltaics, geothermal and bioenergy is improving self-reliance and generating additional income in the agriculture sector. In energy-intensive industries hit hard by the energy crisis, a recovery occurred thanks, in large part, to the establishment of renewable-powered industrial hubs and increasing corporate power purchase agreements (PPAs).
Undeniable Strides, Uneven Progress
The renewable energy sector's growth is evident, but the shift to renewable energy is progressing unevenly across carriers, geographies and technologies. Renewables account for 30 percent of global power generation but, as of 2021, represent just 12.7 percent of worldwide energy consumption. Progress in the power sector reveals a painful disparity with other sectors such as heat and fuel. The difference between the two largest investors in renewables is striking: China leads with 55 percent of total investments, followed by Europe at just 11.3 percent. Asia-Oceania (excluding China and India) follows with 10.8 percent, and the United States at 10 percent. The rest of the world collectively contributed less than four percent to total investments. As a result, it's no surprise that China emerged as a dominant player, accounting for 44 percent of renewable energy deployment and 80 percent of solar PV manufacturing. There is also a considerable disparity between technologies with solar and wind accounting for 92 percent of renewable capacity, which highlights the huge untapped potential of other renewable energy sources.
Disparities in Access to Energy Persist
The year 2022 also witnessed an unprecedented (and worrisome) turn with the number of individuals lacking access to electricity rising to 20 million, escalating the total to 774 million. This is alarming, and even more so when you consider that only 54 out of the 113 countries that lack universal electricity access have established targets for improved access.
These highlights from REN21's GSR2023 document the positive developments in renewables growth, but also point to the importance of looking at the structural challenges that undermine the transition to renewables. While a commitment to tripling renewable energy capacity is a positive and necessary development, we must make sure that this deployment comes with an equal attention to the other pillars of the energy transition, namely improved energy efficiency and the equitable phase out of fossil fuels.
Another imperative is to ensure that the deployment of renewables occurs evenly across the world and does not leave some regions and people behind. In this regard, the Global North has a responsibility to support developing and emerging economies to decarbonize. We must also make sure to develop all technologies and prioritize some of the highest energy consuming sectors such as transport and heating.
Addressing bottlenecks in grids and infrastructure is another important challenge. To make that happen, we must put our money where our mouth is. In 2022, direct fossil fuel subsidies rose by 85 percent from 2021 levels and investment in fossil fuels reached a monumental USD one trillion, dwarfing the record investment in renewables of USD 500 billion. This is, by far, insufficient. As emphasized at COP27, investment in renewables, including in technology and infrastructure, must grow by USD four to six trillion annually until 2030, if we want to reach carbon neutrality by 2050.
Countries that have engaged in transforming their economic pathways to embrace renewables are already reaping some of the benefits. In employment alone, renewables have already generated over 12.7 million jobs globally. Other benefits include reduced energy costs, enhanced health, greater inclusivity, and improved energy security and access. As I observe world leaders preparing for COP28, I want to call on their courage and determination to change the foundations of our current energy and economic system, and build a new one that genuinely puts people and the planet at the center. The clock is ticking, and we cannot afford to miss another opportunity.
Read the full Renewables 2023 Global Status Report (GSR2023) here:
www.ren21.net/reports/global-status-report
Follow us on LinkedIn and Twitter.
Headline Photo: Rana Adib, executive director, REN21.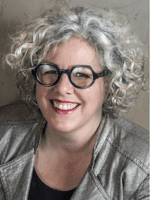 Rana Adib is the executive director of REN21, the only global renewable energy community of actors from science, governments, NGOs and industry, headquartered at the UNEP in Paris, France. She is also the chair of SLOCAT, an international multi-stakeholder partnership enabling knowledge and action for sustainable, low carbon transport.
Adib has worked in private industry and applied research in the areas of renewable energy, energy access, and waste management. She was also responsible for coordinating the biogas-to-energy research programme of Veolia Environment.
Adib has over 20 years of experience in the energy sector, and holds a master's degree in industrial engineering from the University of Wedel in Germany.