A sustainable, clean energy future depends on multiple facets to become a reality. Winning support, establishing a reliable market, and securing investment play critical roles. Still, the oil and gas workforce's current state identifies a potential hurdle in making the clean energy dream come true.
While the workforce has been forever impacted by the lingering effects of the pandemic and reduction in force due to changes in production and growth strategy, many have left the energy sector without a contingency plan for new and capable recruits to carry the proverbial torch. So, the question arises: With all of the technology surfacing to create energy through more responsible methods, where will the workforce come to develop, construct and manage the pillars of the clean energy transition?
The Puranik Foundation strives to solve the workforce dilemma with the Energy Project. Instead of concentrating on those currently servicing the energy industry, the Project focuses on tapping into the youth, specifically high school students between the ages of 14 and 18, to guide them in fostering innovative energy technologies. The Project's goal includes establishing design thinking methodologies driven through collaboration to enhance water sustainability, food systems, power generation, urban design and waste management.
According to Bhakti Salunkhe Puranik, executive director of the foundation and head of the Energy Project, the inspiration for developing the skills of the youth comes from her grandmother, who originally founded Puranik. Started in 2000, the Puranik Foundation has grown from a small family organization that originated with five children under a tree into a well-respected institution of learning inspired to cultivate the problem-solving skills of the next generation of the global workforce.
"My grandmother was truly an inspiration that started what we have grown to become," says Puranik.
The Energy Project is comprised of students from the well-known Energy Institute High School in Houston, Texas, and Camden, Maine's Camden Hills Regional High School. The session begins in November and spans into April of the following year with a total of nearly 40 students.
"We integrate the students taken from both schools together," says Puranik, adding that the $3,000 tuition can be subsidized through partial and full scholarships providing equal chances at opportunity.
While the program is not part of any mandated curriculum, students congregate during after-school hours, where they spend 40 hours developing their ideas into prototypes at the TXRX facility. With a final competition during build week, students develop their innovative solutions and create a business plan with Junior Achievement for the final pitch competition at the ION, Houston. The competition winner is awarded a $15,000 grant allocated to taking the innovative product to market.
Course Curriculum
The Energy Project provides a unique opportunity for the future clean energy generation. While the program allows students to harness skills to create solutions to world problems, it takes it further with funding for actual development. To ensure brilliant examples of innovation prevail, Puranik points to a specific curriculum to promote success.
The Energy Project subscribes to an integrated approach to learning. The program allows students to create energy solutions that will impact the community and the environment while adding the bonus of self-fulfillment to the innovative mind. Design thinking plays a critical role in the Energy Project's curriculum. Puranik reasons big solutions come from big ideas, so the focus is on fostering an out-of-the-box thinking methodology.
"We are committed to empowering students with specialized skills for a sustainable future," says Puranik.
The program's ultimate goal is implementing solutions to market, so the business aspect is deeply rooted in the curriculum. While the design might come easy, practical application can be challenging. As a result, the Energy Project solicited and provided entrepreneurs who have started their businesses to educate and inspire program students. Personal experience and case studies are tools to assist students in creating and managing their businesses in the future. Each develops a framework to achieve success by identifying limitations and advancements in their field of choice. Here, the energy crisis sees hope with the ability of students to obtain internships with these businesses when selecting an area to deploy their clean energy solutions.
Developing ideas into viable solutions largely depends upon testing and verification of capability. Prototyping is critical in this process, so the Energy Project relies heavily upon the process as a curriculum component. TXRX professionals participate in the program and offer their knowledge in helping the students prototype, construct and provide their ideas to the public as a marketable solution to a real-world energy problem.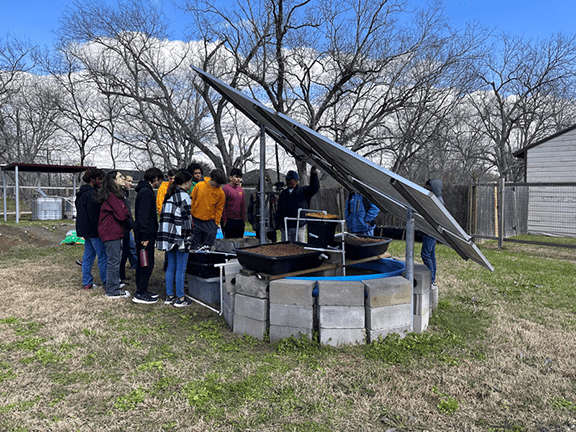 2022 Student Solutions
The Energy Project's students possess a unique understanding of issues that plague society, and workable solutions come to fruition through the guidance of the program's educators. "Urban Windfarms," the 2022 group of students concentrating on power generation, focused on vertical axis wind turbines outfitted with solar panels to harness both wind and solar power to provide urban-friendly power solutions that benefit low-income housing.
"Water Works" students engineer a sustainable water source solution with a water recapturing system. Because its design allows for a customizable solution, it can be used with all plants and reduce water consumption.
Travel challenges receive attention from the Energy Project's student group, "Gondolas of Houston's Sustainable Transportation," seeking to solve urban issues. In an attempt to improve Houston travel, transportation advancements and traffic solutions become the inspiration for a better-received travel experience.
"Karot," another group of students of the Energy Project, is tackling sustainability with a water recycling solution. Attached to the home aquarium, this group's aquaponics system recycles fish waste for conversion to fertilizer, allowing for the healthy growth of fish and plants.
Waste management plays a large part in a sustainable future. "Prototype Greens" confronts the problem head-on with students developing an algae-based air scrubber and biodiesel system. It will contribute to lowering the carbon footprint with its ability to help companies, including real estate developers, decrease carbon dioxide emissions while capitalizing on tax credits.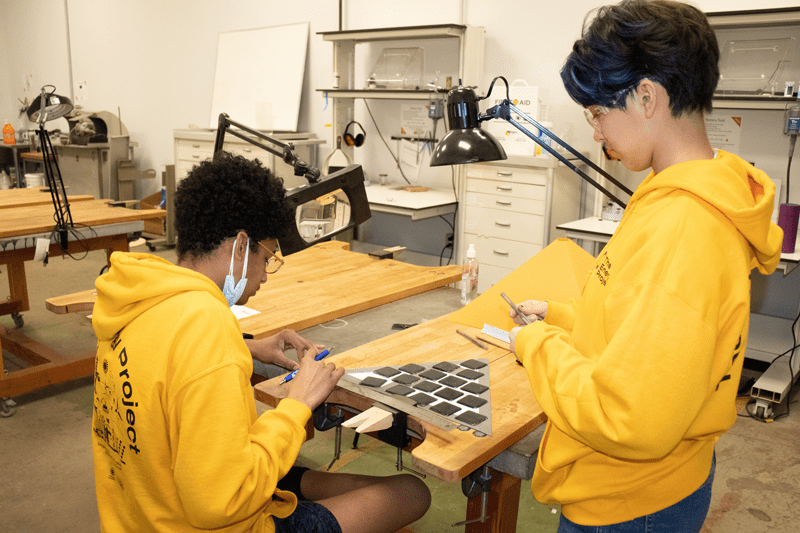 Bringing Vision to Reality
Puranik sees an attainable future driven by alternative power options. Innovative thinking sparks solutions; she feels the younger generation offers the best opportunity to produce that spark.
"Young minds are not restricted," says Puranik. "Preconceived notions do not hinder young people."
By providing a creative outlet to cultivate and nurture developing minds, Puranik foresees endless possibilities. With the looming energy crisis and the need to preserve the planet, the energy sector is fertile ground for those young minds to wage monumental change.
To support that paradigm shift, Puranik possesses dreams of the same magnitude. Much like the Energy Project's students thinking big and implementing more extensive solutions, Puranik sees bringing the Energy Project to a global audience.
"We want to foster global innovation and sustainability," says Puranik. "We want to spark the shift in the energy transition."
Mirroring the Industrial Revolution, the energy transition is an unstoppable force that, while providing an abundance of energy options, will demand an equal amount of resources to plan and design the initial infrastructure, construct power sources, and then manage their service. A robust and prepared workforce is essential to convert vision into reality. By tapping into youth, the Energy Project fosters interest in responding to the energy crisis and ignites the initiation into alternative energy careers.
Headline Photo: Students visited Natura PCR, a plastics recycling center in Houston, Texas. The group posed for a photo amid large piles of recyclable plastic. Photos courtesy of Puranik Foundation.
Nick Vaccaro is a freelance writer and photographer. In addition to providing technical writing services, he is an HSE consultant in the oil and gas industry with twelve years of experience. Vaccaro also contributes to SHALE Oil and Gas Business Magazine, American Oil and Gas Investor, Oil and Gas Investor, Energies Magazine and Louisiana Sportsman Magazine. He has a BA in photojournalism from Loyola University and resides in the New Orleans area. Vaccaro can be reached at 985-966-0957 or nav@vaccarogroupllc.com.