Drone technologies continue to proliferate the renewable energy sector. From autonomous drones conducting inspections of turbine blades, to cargo drones making ship-to-ship, and shore-to-ship payload drop-offs, energy sector operators have been robust adopters of innovative uses for unmanned aerial vehicles (UAVs). With the rapid advancement of commercial delivery drone platforms, UAVs are also now being trialed in offshore logistics applications to help streamline preventative and corrective maintenance missions.
While commercial payload drones are not going to replace the ships and helicopters that ferry maintenance personnel from shore to the turbine fields, they can help streamline the transport of spare parts and tools to teams deployed offshore, or between offshore installations. These missions can mitigate downtime for offshore installations, realize cost savings, and help reduce emissions. The demanding conditions of these logistics missions also require some purpose-built UAV platforms.
Mitigating Costly Downtime
The main objective of any preventative maintenance program is to reduce costly downtime. While service technicians usually travel to offshore installations with the tools and components most often needed for turbine repairs, if their inspection deems additional parts are needed, it could require a complete roundtrip to shore-based facilities to retrieve those components.
This is costly in ship or helicopter operations hours, personnel and fuel costs. Even more costly is the added delay of the turbine restart. Leveraging commercial delivery drones would streamline these repairs. Rather than deploy additional ships or helicopters, technicians could instead request the necessary tools, components or materials be deployed aboard an autonomous delivery drone.
For example, a team deployed for routine replacement of a sensor might find additional electric components in need of replacement. A commercial delivery drone deployed from shore could reach a turbine 25 kilometers offshore in under 30 minutes. By the time the sensor replacement is complete, the needed components would be neatly deposited at the turbine access point or even atop the nacelle, if applicable. For teams deployed from a mothership, drones could transfer parts and supplies ship-to-ship, preventing the vessels from steaming long distances to make such transfers at sea.
Cost Savings and Emissions Reductions
Eliminating even a portion of the ships steaming to offshore facilities, or the helicopters making roundtrip flights, would mean savings on fuel, personnel costs, etc. In fact, Marco Polo Marine, a Singapore-based integrated maritime logistics company, and drone services provider, F-Drones, recently partnered on the world's first large-scale, electric aerial delivery UAVs designed to service offshore wind farms. The joint endeavor estimates it will realize a 90 percent cost savings compared to current transport options.
Also, for renewable energy producers striving for a carbon neutral goal, leveraging UAVs for offshore logistics offers an opportunity to service these installations more sustainably. With even heavy-lift drone platforms powered by rechargeable lithium-ion battery packs, the platforms offer a zero emission transportation platform. Marco Polo Marine estimates deploying UAVs for transporting supplies to the platforms will lower carbon outputs by 99 percent compared to supply boats or crew transfer vessels.
Hardware Demands for Offshore Logistics Drones
For offshore operators to leverage drone platforms in offshore logistics, the drones need to be purpose-built for the operations and conditions. While many near-shore wind farms may be within sight of shore, to service more distant facilities, drone platforms need expanded range and suitable payload capacity to meet the most common payload necessities. UAV platforms purpose-built for such missions are fairly readily available. In fact, renewable energy titan, Ørsted, recently launched offshore logistics trials with a drone platform capable of traveling 100 kilometers with a load capacity of 2.5 kilograms. Another such trial is underway as drone-maker Wingcopter has partnered with German Airways to test similar logistics capabilities for offshore wind farms. The Wingcopter drones transport payloads of up to five kilograms between 75 and 110 kilometers.
In addition to simply reaching these offshore installations, the delivery drones need to be able to deposit their cargo safely and accurately. Leveraging a tethered delivery system allows commercial cargo drones to deposit the payloads from altitude. This keeps spinning propellers away from personnel and equipment on the ground or offshore platform.
The tethered system is also designed to auto-release its payload without personnel having to interact with the parcel. In addition, the tethered system gives technicians the ability to pick up payloads. Filled with redundant safety systems, the heavy-duty Kevlar tether can also be abandoned if it becomes ensnared.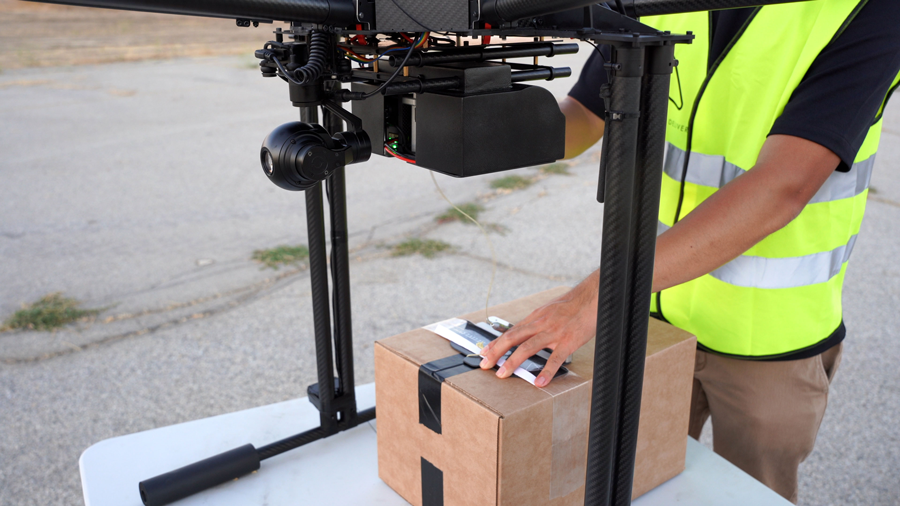 While tethered deliveries are ideal for safety, heavy offshore winds can sometimes complicate tethered delivery. To address this, operators, like Nordic Unmanned in Norway, are testing a modular UAV design that quickly swaps the tether system for an enclosed payload bay. With the latter, the UAV is required to land on the platform.
While logistics flights between ships or from shore-to-ship will continue to require some pilot interaction, current autonomous flight capabilities already enable essentially hands-free deliveries between known fixed points. Operators simply pre-plan a delivery path from the UAV's ground station, and, with the tap of a button, the drone will take off, travel the prescribed flight pattern, deposit the package and then return along the same route. Pre-planning these flight paths allows the drones to avoid known hazards such as power lines on shore, restricted air spaces or other offshore installations. Integrating autonomous capabilities also mitigates potential for pilot error, which can be valuable in seeking regulatory approvals for the operations.
Regulatory Requirements for Offshore Drone Flights
To realize the efficiencies drones can deliver for offshore logistics, operators will also need to adhere to the regional regulatory requirements. These obviously differ throughout the world. In each area of operation, regulatory authorities will issue certificates enabling very specific authorizations for drone operations beyond visual line of sight (BVLOS). Offshore energy producers seeking to trial drones for offshore logistics often partner with established drone service providers with experience operating in their respective areas of operation. These service providers also will ensure proper regulatory approvals for the operations, if they do not already hold the necessary certificates.
Competitive Advantages
Whether for installation inspections, routine facilities surveillance or creating efficiency in offshore maintenance missions, innovative drone technologies represent a new competitive advantage for renewable energy producers. Limiting ship travel or helicopter flights not only saves capital expenditures, but mitigates detrimental emissions from these traditional transportation platforms. Most notably, leveraging drones to expedite offshore logistics speeds repairs and puts offshore turbines back online sooner. Renewable energy producers that embrace these cutting-edge capabilities will undoubtedly be better positioned within the sector.
Headline photo courtesy of Nordic Unmanned. 
Aaron Zhang is the founder and CEO of A2Z Drone Delivery, Inc., which develops innovative solutions capable of pushing drone delivery into mainstream logistics operations. Based in Los Angeles, California, A2Z Drone Delivery originated as a drone delivery project at Brown University in 2016 and now serves customers around the world that are leveraging its technology for residential drone delivery, offshore logistics, search and rescue operations and more. www.a2zdronedelivery.com