Welcome to our first quarterly issue of 2023! Last year was the first full year of publication for ENERGIES Magazine, the latest addition to U.S. Energy Media's portfolio. Because of our belief that it will take all forms of energy to power the planet, ENERGIES, with its focus on renewables, joins our companion publications, Oilman and Oilwoman magazines, which continue to focus on the latest technological advances and innovations in legacy sources of energy.
In this edition's cover interview, we talk to Martijn Dekker, a well-known voice in the energy industry, who brings extensive experience from his successful 25-year career with Shell to his new company, ZeroSix, a digital solution for high-quality carbon credits, which utilizes the voluntary carbon market to incentivize oil and gas producers to leave reserves in the ground in exchange for carbon credits. "Isn't it much better to get ahead of the problem?" Dekker asks rhetorically. He is finding many in the oil and gas industry receptive to this message and the realization that there are opportunities to build upon the existing energy system and make maximum use of what is already in place. As he points out, we are in the midst of a transition –not a revolution – but that we can accelerate it by working together for the common good.
Along with this interview in which Dekker shares how ZeroSix intends to bring integrity to the carbon credit market, this issue contains articles that deal with energy on a macro level – as contributor Liz Wilder explains what needs to be done to utilize more hydropower in the U.S. – as well as a micro level, with freelance writer, Matthew Schniper, sharing how he retrofitted his Colorado home to be more eco-friendly using sustainable materials.
Spring is thought of as a time of renewal and, as these articles evidence, there is much to look forward to in the renewable energy space!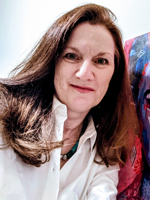 Rebecca Ponton has been a journalist for 25+ years and is also a petroleum landman. Her book, Breaking the GAS Ceiling: Women in the Offshore Oil and Gas Industry (Modern History Press), was released in May 2019. For more info, go to www.breakingthegasceiling.com.