Off-grid living may sound like an attractive, natural experience to those who don't have to experience it every day. The reality of life without access to a power grid means health clinics use diesel generators with their attendant fumes for operating room lighting. Mechanical equipment stops working when fuel runs out. Life off the grid means cooking with wood, charcoal or kerosene, which presents a high risk of fire in thatch-roof housing and emits black carbon that causes lung problems. Even a trip to the latrine becomes risky in pitch-black conditions. In sub-Saharan Africa, life off the grid means productivity stops when the sun goes down, which is one of the harsh realities of energy poverty.
"There are currently 600 million people in Africa without access to reliable energy," says Olasimbo "Simbo" Sojinrin. As the chief operating officer of Solar Sister, Sojinrin leads the day-to-day work of a nonprofit organization with an annual budget of approximately $3 million that has brought clean energy to more than 3.4 million people since its founding in 2009. Solar Sister has been recognized by such organizations as the Keeling Curve Prize for Energy Access, the Social Venture Network, the International Centre for Research on Women, and the Clinton Global Initiative.
Working at the nexus of energy access and women's empowerment, Solar Sister does not simply raise funds and give products to recipients in off-grid communities. Sojinrin says, "We train Solar Sister Entrepreneurs (SSEs) – primarily women – to start their own businesses. We teach them how to operate and sell clean energy devices, such as solar lamps or efficient, safer cookstoves." Because research has demonstrated that women use their profits to invest in further family prosperity, "The role of women in building economies cannot be over-emphasized."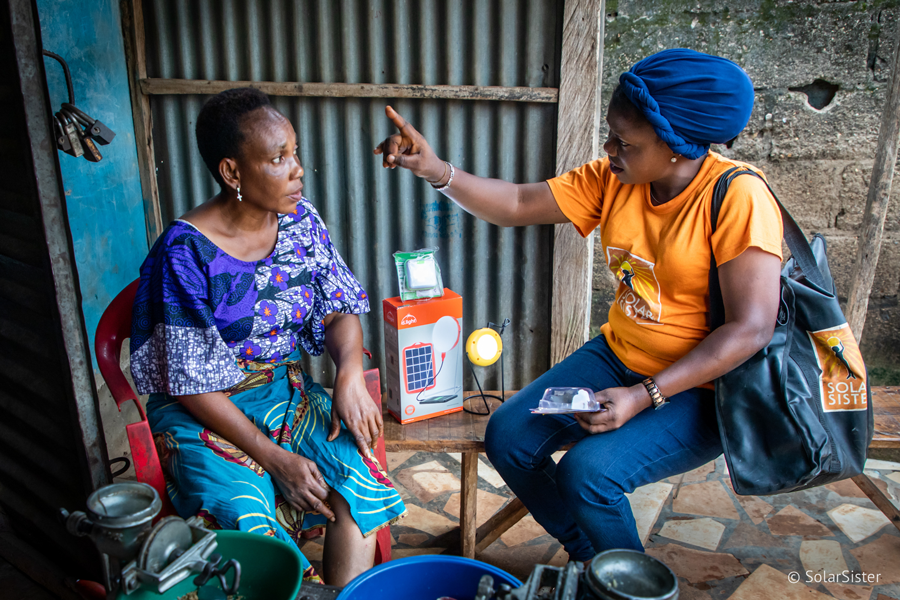 The entrepreneurial ethos of one woman farmer was the inspiration for American Katherine Lucey to found Solar Sister. While volunteering to install solar systems in Ugandan health clinics, Lucey noticed a tiny light positioned over one chicken coop. When questioned, the farmer explained that her chickens only ate when they could see. The woman rigged up the light to help her chickens eat more. The chickens then produced bigger eggs, which sold for more money at the market.
"Just one light made me realize people didn't need huge panels and expensive inverters to get useful task power," Lucey says. "Product size solar was pretty new in 2009, and it clearly improved lives. How could these small products get into people's hands? I thought, let's solve for that."
What was needed was a nimble, efficient and low-cost distribution network. Lucey envisioned and created a woman-to-woman sales force that could serve the remotest communities.
"Women make the energy decisions in last-mile households," she says. "They decide if they are going to buy kerosene for the stove or the lamp. They decide if new technology like cleaner stoves or solar lamps will enter the home. So, to reach these women, we decided to create a salesforce of women who were deeply embedded in the community. These women are able to teach their customers, who are their friends and neighbors, how to put the lamp in the sun during the day so that it shines at night. They show customers how a lamp, which costs about five U.S. dollars, saves four dollars in kerosene every week. This money saved pays for better food, school fees, clothes and these purchases then grow the local economy further. Where businesses thrive, families thrive."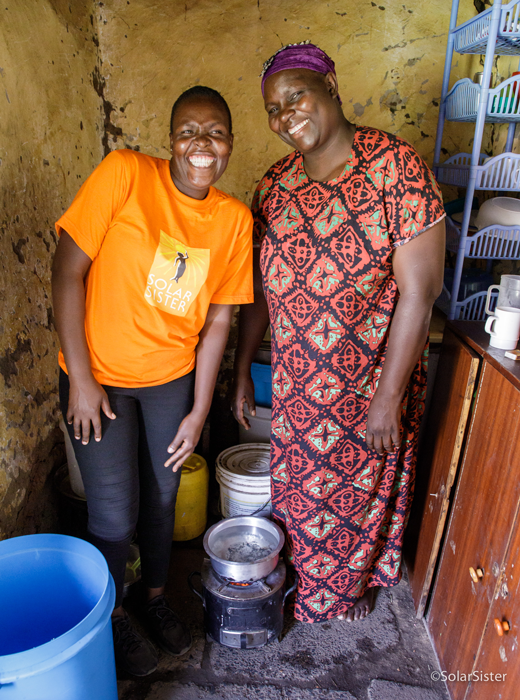 Local marketers are called Solar Sister Entrepreneurs (SSEs). Fatma Muzo, country director for Tanzania, says, "We work with leaders of grassroots organizations such as farmer's groups to identify local women who might become committed role models." Once SSE candidates with "entrepreneurship ethos" are identified, the local staff holds a "one-on-one recruitment conversation to share the entrepreneurship opportunity." Staff members assist candidates in filling out the application form, provide training, and help procure the new SSE's first inventory.
"It's important to adjust our training and program to meet the needs of the local culture. For example, in northern Nigeria, which is largely Muslim, women and men lead somewhat gender-segregated lives. Our business model, where women sell to other women, fits well with the culture and the women are supported in their success by their husbands," says Joanna Pinneo, a member of the U.S. based team that recently returned from onsite meetings across Africa. "When you meet, say, Oluwakemi Ojewoye in Nigeria, who kept her business going via text message during Covid lockdowns – her husband lost his teaching income due to school closures – you really appreciate how entrepreneurship improves families' lives."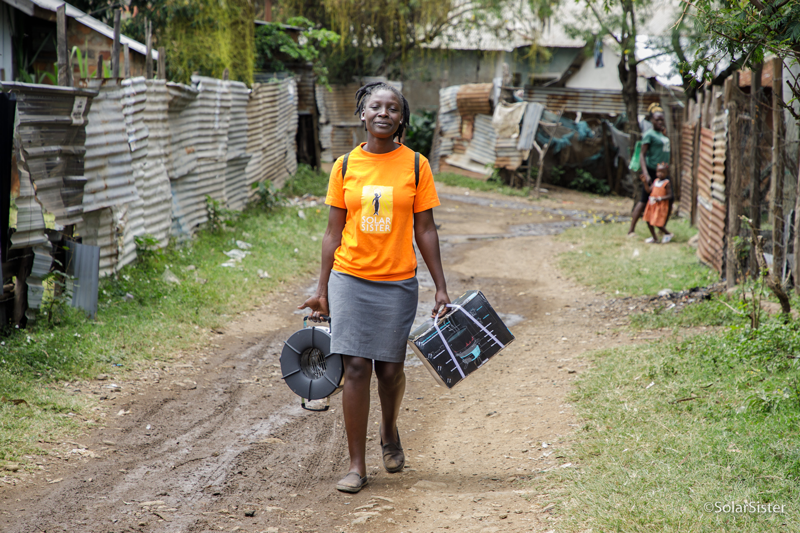 Eucharia Idoko, a Solar Sister Entrepreneur in Nigeria, says, "I have been leaving my solar lamps outside at night to keep the area well-lit." She recommends this to her customers because, "If there is light, it helps deter gangs and thieves, because they do not want to be identified; they need darkness."
Three key factors differentiate Solar Sister in the market: The products are available locally and predictably. Second, products come with a warranty. If a product does not work as expected, the SSE will replace it, which builds market trust. This is important, Muzo says, because "competition from counterfeit products, which sell at cheaper price" from the backs of trucks sometimes look attractive to a potential customer. Finally, SSEs are easily identified in public due to the bright  yellow logo T-shirt and matching hijab (if desired), which help customers know they are dealing with a professional.
Kenya is the newest clean energy market for Solar Sister, although not for Country Director Finorah Manayala. In 2011, she began to volunteer for a clean energy social enterprise, LivelyHoods, founded by Tania Laden, a recent college graduate. Laden organized a youth network in Kenyan slums that, like Solar Sister, used a distributed salesforce to provide cleaner energy stoves and solar light.
Typical Kenyan cookstoves are made of clay or cheap metal and primarily burn charcoal, which is expensive and emits soot particulates. A recent study of air quality published in Nature magazine found the amount of soot (PM 2.5) was five times higher in Nairobi than the acceptable level of air pollution as defined by the World Health Organization (WHO).
Manayala says, "The clean cookstoves are more efficient," because they have an ashtray-style damper that controls the burn rate and reduces charcoal consumption by 75 percent. Although the fuel is unchanged, "Our customers can save money and time with the clean cookstoves," while also reducing indoor air pollution.
A years-long series of conversations recently led to the merger of LivelyHoods and Solar Sister. "This merger represents the kind of collaboration and unity of effort that it will take to address the world's greatest challenges, such as job creation, economic empowerment, and access to clean and affordable energy," says Laden, who now serves on Solar Sister's board of directors.
Lucey adds, "Our mission, vision and values are in complete alignment, giving us a solid foundation for our combined efforts. We bring different geographic and market segment expertise to the table that will enable us to grow in size as well as strength. We are better together, and that benefits our customers, our communities, our partners and our funders."
Lucey believes people are drawn to support Solar Sister because, "We benefit from a strong core purpose. It's pretty distinct. Solar Sister is the nexus where women's empowerment, clean energy and climate change reduction all come together, and that catches people's attention."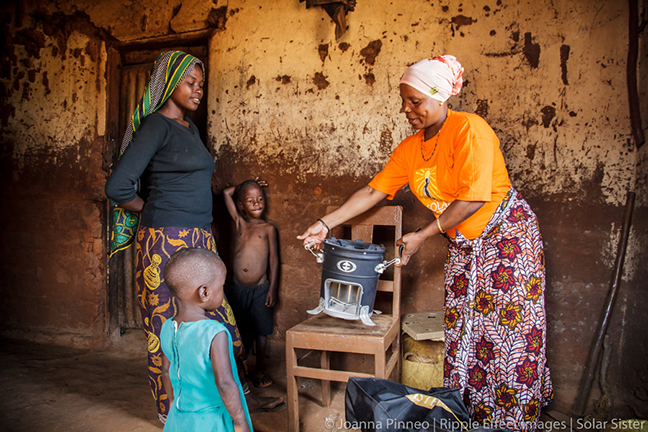 Board member Pam Darwin agrees. She met Solar Sister representatives while judging a technology competition when she was vice president of geoscience for ExxonMobil. "Even though they didn't win the Ashoka challenge, their market-based approach was attractive. What stood out was the scalability of the program," Darwin says. She helped Solar Sister earn financial support from ExxonMobil's Women Economic Opportunity Initiative, and has volunteered with the organization for years.
Darwin co-leads the board's strategy committee with fellow geologist Todd Mitchell. Looking forward, "We're working on the next five-year plan, refining our last-mile delivery, identifying what we're particularly good at and where we could raise the bar. And we're excited to learn from LivelyHoods, to see how their model for success can help us achieve our core mission: To alleviate energy poverty."
Lucey's final thoughts: "The individual entrepreneur is light, hope and opportunity in her community. Our job is to set her up and then step back, knowing she's got this."
Headline photo: Eucharia Idoko on her motorbike with SSE Judith Ogbonna at a Sisterhood meeting in Enugu Ikpamodo village, Enugu State, Nigeria. Photos courtesy of Solar Sister.