Travel specialist Tammy Doucette and her husband James steer others toward their "vacation of a lifetime," through her agency Sundowner Travel by Dream Vacations, located in Troy, New York, while simultaneously working toward their ultimate getaway – an untethered life. Their goal is to eventually sell their property to live aboard their solar-powered Catamaran sailboat and sail the Caribbean.
"Our preference is to be off the grid. We love being on a mooring and at anchor. Some people love to be docked where they can connect to shore power," she says. "We want to be able to tuck into an island, stay on anchor for a month, a day, a year or whatever we decide to do. If we like the people and there is a great atmosphere, we don't want to have to rely on power to stay where we are."
The couple owns a 411 Catana Catamaran that is just under 23.5 feet wide. The vessel runs on 1200W of solar power split into two 600W feeds that are directed into two different battery banks. The couple plans to add another 150 W battery, which would be continuously charged by solar.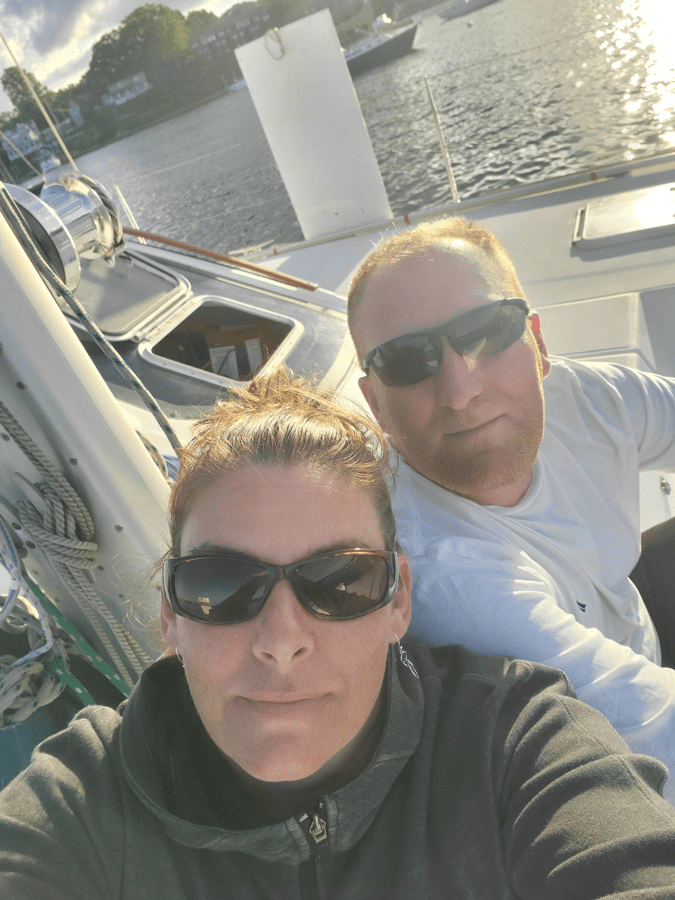 "Outside of the coffee maker, we can be 100 percent off-grid on solar power. We can run our refrigerator, freezer, lights and navigation station instruments," Doucette says.
The couple must watch the amp hours and calculate their energy intake and usage. For example, they know that the freezer onboard requires three amps every hour. Adding that to the energy needs of other amenities, they know they can sail on solar as long as the solar panels bring in the minimum amperage required. 
"If we have cloudy, miserable weather for two weeks straight, we may run into a situation where we have to start the battery to refresh it because the alternator runs from the engine," Doucette says.
The solar-powered boat industry is tiny, notes David Borton, a physicist and retired associate professor at the Rensselaer Polytechnic Institute where he taught solar engineering. The global solar boat market generated $0.65 billion in 2021, and the industry is projected to reach $2.4 billion by 2031, according to a report by Allied Market Research. 
Solar-powered vessels are not only for private boating enthusiasts. The industry is gaining in popularity, and being brought onboard commercial boats. Electric-powered vessels are primarily commercial ferries that can charge at each end while loading, as Borton explains.
He initially saw solar power as an alternative to gasoline in the mid-1970s, having just finished a PhD in physics. Shortages and rationing meant he couldn't buy gasoline easily, so he began investigating the potential of all energy sources and chose the sun because it is the only one that has provided power for millions of years.
"I've been in solar ever since," he says. "Solar power is big enough and clean enough."
Borton began joining his family on boating excursions before his first birthday. When he considered solar energy, it was only natural that his thoughts turned to building a solar-powered vessel.
Borton's first solar-powered boat was an Adirondack canoe, then a 44-foot tour boat on the Hudson River, and his designs have evolved from there. His first 25W photovoltaic panel cost $10 per watt, a price he considered a great bargain.
"Today's cost is around $1 per watt, so it is even more of a bargain," he says.
In 2015, Borton drove the first 100 percent solar-powered cargo vessel to Lockport, New York. The tugboat named Solar Sal traversed nearly 650 miles across the state to deliver four tons of cargo. The boat is outfitted with five kW of solar panels, which feed two battery banks. The solar panels supply power to Torqeedo lithium batteries and traditional lead-acid batteries.
Twin Torqeedo Cruise 4.0 electric motors propel the boat at an average speed of seven mph and the motors provide thrust equal to two 9.9-horsepower combustion engines. During daylight hours, travel is unlimited. After sunset, the vessel can run on stored battery power for up to 50 miles.
"Solar is a great bargain," Borton says. "Electronically controlled motors are even better than older motors and lithium batteries are even better than lead."
Borton shares his passion for solar-powered boating with his wife, Harriet (a Peace Corps volunteer in Ghana in the 1960s), and their son Alex. Their company, Solar Sal Boats, holds U.S. Patent No. 10,875,608 for its solar-powered aquatic vessels. They work with expert designers and boat builders to launch commercial boats, and also cruisers for picnic/cocktail launches with the option of private cabins.
In 2018, their Solar Sal 44 model was the first 100 percent solar powered commercial boat inspected by the U.S. Coast Guard. Now named Solaris, the solar passenger vessel was the first of its type to receive certification. In 2021, the father-son duo piloted Wayward Sun, a 27-foot solar-powered boat, on a 1,400-mile journey from Bellingham, Washington, to Juneau, Alaska, making it the first recorded 100 percent solar-powered voyage up the Inside Passage.
As Alex explains, the Wayward Sun cruises at 4.5 knots with 1000 watts and five knots with 1500 watts. Twelve Solbian 144 watt panels capture the sun's energy and feed 1,728 watts to six Torqeedo Power 24-3500 batteries, giving the boat 21,000 watt-hour capacity.
"Doubling the power from 1,500 watts to 3,000 watts will gain just over an additional knot of speed," he posted on a blog recounting the trip. "Adding another 1,500 watts only gets another half knot to max out our top speed of 6.5 knots at 4,500 watts of power."
"People are used to electric cars, and they always ask how far we can go. The daytime range on a solar boat is unlimited," Alex says. "There is a misconception that [solar-powered boats] are complicated, and you need to be an engineer, a physicist or do-it-yourselfer to have a solar boat. It is really easy to both understand and operate a solar boat."
Naysayers of solar boating say it is not of consequence because it does not generate enough power or speed to be a viable solution. Borton says that, unlike land-based electric vehicles, the solar boat range is not limited, though the amount of available sunshine influences speed.
"The solar boating industry is growing. I know of a couple commercial solar boats besides Solaris. One is a ferry in India, and one is a tour boat somewhere in the tropics," Alex adds. "There are a couple smaller, all-solar recreational boats that you can find online, if you Google "solar boats." The ones I have seen do not have a head like our SS24. We think the head is important. Solar boats eliminate range anxiety, but what good is unlimited range if you have bladder anxiety?"
Like the Bortons, other entrepreneurs, including Gunter Pauli from Belgium, believe otherwise. Pauli's 118-foot-long, 79-foot-wide ship dubbed Porrima uses hydrogen from seawater, solar power panels and more, reported Architectural Digest in April 2022.
"Electric boats are coming, as are electric cars," Borton says. "Solar boats will be the way to go since there is no place to charge many places boats want to go. We plan to make solar cabin cruisers but, more importantly, solar freight boats – first for the Erie Canal, Hudson River and inland waters."
Katie Navarra is a non-fiction writer. Her byline has appeared in Popular Science, The Motley Fool, Education Dive, ChemMatters, Society of Human Resources Management, Western Horseman Magazine and Working Ranch, among others.