While preservation of historic structures has proven both critical and challenging, innovation has long been found to improve areas one might not expect. Finding a link between the two is quite rare. Nothing could validate such a thought process as 127 Energy outfitting the Castello di Amorosa winery with a microgrid that claims the same level of envy as the veritable 13th-century castle winery itself.
Currently, as the world is being subjected to the turmoil of rising oil and gas costs, along with the uncertainty of its availability, a focus on alternative energy could very well gain traction and offer an alternate path. With 127 Energy providing Castello di Amorosa a path to energy independence, the current state of affairs and any impending transition might prove to be as palatable as one of the winery's fine Chardonnays.
Founded in 2016, 127 Energy's Chief Executive Officer Mark Crowdis had worked in the Caribbean on microgrid projects and came to recognize the effectiveness and longevity of these types of power sources.
"We started to see that you could cost-effectively and technically run solar and storage systems for resilience as well as daily grid-connected operations," says Crowdis. "I simply believed it was time to meet the moment and have a greater impact for customers, clients and the planet."
Meet the moment Crowdis did with the winery's microgrid. After Gopal Shankar of Recolte Energy provided the connection, the project came to fruition. Based in Napa, Shankar is well known in the renewable energy products theater and the expansion of electric vehicle infrastructure. He also has strong ties with the wine business and served as the owner's representative.
Design and Innovation
The Castello di Amorosa microgrid functions through the combination of specific devices. It includes solar power, battery energy storage provided through Sungrow inverters with NMC Samsung batteries, existing dispatchable generation, and the utility grid.
"PV and battery sizing was established by evaluating historical 15-minute interval load data and producing granular performance analysis," says Crowdis. "We lead on procurement and work alongside an extremely talented external designer."
While it might seem as though it would be challenging to station an abundance of modern technology right in the heart of something paying homage to historical architecture, the combination of the castle and microgrid did not seem to present such a conflicting issue. Crowdis credits this to the recognition and understanding provided by Castello di Amorosa's management staff.
"The guys that own and run Castello di Amorosa, Dario Sattui and Greg Salzner, are what America is all about. They are creative, smart, and are visionaries who are committed to making customers happy. The castle brings big smiles to an incredible amount of people, and the owners doing their part to avert climate change is part of that customer experience."
Crowdis reasons that the winery's funds could be applied to more appropriate business components and avoid paying increasing utility fees for decreasing reliability. The project's goals focus on solving current and approaching issues to enrich future business longevity through long-term and durable solutions.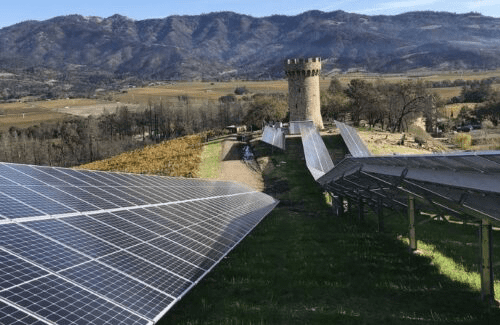 Project Cost and Duration
Although a microgrid might seem to differ vastly from traditional construction projects, such as homes and commercial buildings, the actual jump is not as far off as one might think. Like any other construction project, the microgrid was subjected to planning and permitting processes.
The microgrid's construction required around 40 people on-site and full support staff located offsite. This would appear to further complement workforce allocations in large commercial construction projects, but operating costs might be met with scrutiny compared to traditional power.
"According to experts like Lazard, large utility-scale solar PV has the lowest LCOE of any energy source, renewable or not," says Crowdis. "This analysis was done when natural gas was at historically low prices."
While inflated operating costs do not appear to plague projects of this design, some incentives do more than defend microgrid capabilities; they further justify them. Potential tax credits and incentives can assist in the managing of construction costs.
"The state of California has performance-based incentives for battery energy storage," Crowdis explains. "There is also a Federal Investment Tax Credit equal to 26 percent of the project cost."
Challenges and Highlights
With any large-scale project like the Castello di Amorosa Winery, come unexpected challenges. Throw in a pandemic, and they increase exponentially with each step.
"This was all happening during the pandemic, so various supply chain issues became a challenge," says Crowdis. "Some critical materials were re-routed from China to India for final assembly."
Crowdis adds that many of the components needed for the project fell victim to the Suez Canal shipping crisis. While most civilizations were working remotely, permitting departments conducted their operations in the same fashion, leading to slow turnaround times.
With the challenges and uncertainty of the given period in which the microgrid was constructed, Crowdis recognizes the project's success through the tireless efforts of a dedicated team of professionals. "We had an incredible team working with a great customer. We provided impressive energy savings with an environmentally intelligent design."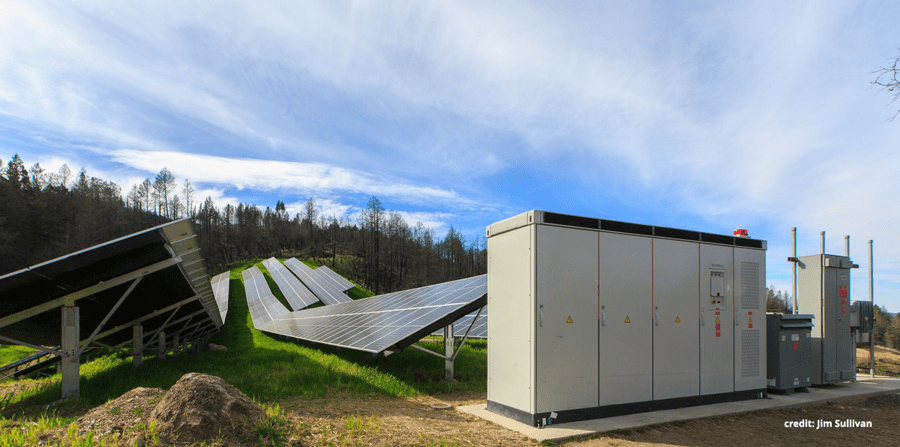 Benefiting from an Improved System
The debate between traditional energy and alternative sources has become a growing debate as each side strives to claim the majority market share. When laying the groundwork for justification of the microgrid providing a more efficient solution to energy capability, the microgrid's performance pays for its very construction.
"The Castello microgrid provides multiple layers of redundancy and resiliency," Crowdis explains. "The system performs 365 days a year, regardless of whether PG&E's grid is up or down, and at the same price regardless of international oil and gas prices."
The microgrid provides an additional factor that is essential to its success. 127 Energy designed the system to nearly run itself with minimal annual maintenance. While the winery staff focuses on business, a separate entity provides operations and maintenance support.
Crowdis points out another bonus feature provided by the microgrid: The team designed the system to provide adequate power through a design that can be easily updated, if needed. "The system could certainly be expanded or reconfigured based on future load growth at the castle."
Down the Road
Crowdis credits the success of the Castello di Amorosa Winery microgrid as a driving force in the compilation of new projects. Its proven results have been the catalyst in prompting customers to seek the exact same energy solutions.
While the goals or outcomes might be similar, Crowdis indicates that each project differs due to location. Shading, utility tariffs, and even interconnection rules influence design and implementation. Although 127 Energy possesses various system designs, the company continually refines them to be most effective in meeting customer demands.
"There are great applications for data centers, oil and gas, food production, retail and even distribution centers. Each, however, would be slightly different."
No matter the customer business solution or the location, 127 Energy designs a customer-specific solution geared to meet specific needs and provide desired outcomes. The challenge is rooted in considering all of the extenuating circumstances to draft and implement a solution that surpasses the present methodology.
"We love developing and financing projects," says Crowdis. "We will continue focusing on improving our practice with all of our valued friends and customers. We also value being a high-touch developer, so we do not plan to be a giant. We plan to be the best."
Headline photo courtesy of Jim Sullivan. Solar panel grid tower. 
Nick Vaccaro is a freelance writer and photographer. In addition to providing technical writing services, he is an HSE consultant in the oil and gas industry with twelve years of experience. Vaccaro also contributes to SHALE Oil and Gas Business Magazine, American Oil and Gas Investor, Oil and Gas Investor, Energies Magazine and Louisiana Sportsman Magazine. He has a BA in photojournalism from Loyola University and resides in the New Orleans area. Vaccaro can be reached at 985-966-0957 or nav@vaccarogroupllc.com.