As you may have noticed from the cover, this issue of ENERGIES Magazine is slightly different from the rest. Since the first issue premiered in Spring of this year, we have been privileged to talk to and feature insights from leaders at the forefront of the energy transition, starting with Abby Hopper, president and CEO of the Solar Energy Industries Association (SEIA), followed by Al Vickers, bp's CEO of Wind Energy, in the Summer issue, and CJ Warner, who sits on Chevron's board of directors, on the cover of the Fall edition. (If you missed any of those issues, you will want to sign up for the complimentary digital edition of the magazine, so that you can access the archives.) So, where does an Academy award-winning actor fit into the scheme of things?
As we all know, it is imperative to accelerate the energy transition while, at the same time, increase diversity – of all forms – within the industry. Which is why, with this issue, we are thrilled to feature Oscar winner and environmental activist Jeff Bridges, someone with a slightly different perspective, although he has been fascinated by, and concerned with, the environment since childhood. Over the past few years, Bridges has collaborated with documentary filmmaker, Susan Kucera, also profiled in this issue, on two films, Living in the Future's Past, and Hot Money, to highlight the issues surrounding climate change and its effects on the planet and humanity.
Bridges brought his unique brand of mellow, yet passionate, energy to the interview, touching on a wide variety of topics, and incorporating thoughts from fields as diverse as science, psychology and philosophy. (As he said in our conversation, "I like getting into the Buddhist [philosophy because] I think they know a beginner's mind is a good place to start.") Words of wisdom, as it's going to take open minds and creative thinkers to find innovative solutions to power the world's energy needs while mitigating climate change.
And that's a wrap for 2022! (It seems only fitting to work in some movie terminology!)
In 2023, we look forward to bringing you more stories of cutting-edge technology and discussions with industry leaders who are helping move the energy transition forward.
Happy holidays!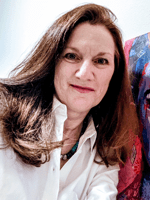 Rebecca Ponton has been a journalist for 25+ years and is also a petroleum landman. Her book, Breaking the GAS Ceiling: Women in the Offshore Oil and Gas Industry (Modern History Press), was released in May 2019. For more info, go to www.breakingthegasceiling.com.