The name Vanir comes from Norse mythology and represents health, prosperity and fertility. Vanir Energy, part of the Vanir Group, acquired clean energy developer Appalachian in 2008 and has been making history ever since. In February 2008, Vanir completed Fletcher Business Park. Located in Fletcher, North Carolina, the 1.5MW solar thermal facility was, at the time, the world's largest heating and cooling facility. Owned and operated by Vanir, Fletcher Business Park purchases energy from the solar power generation facility through a long-term solar thermal purchase agreement (STPA) based on the kWh generated.
Housing 30,000 square feet of rooftop space, the facility is powered by 640 EnerWorks solar thermal panels attached to one mile of structural steel framing. The thermal panels feed a 27,000-gallon storage tank using 1.5 miles of piping, five heat exchangers and 17 pumps. The system can generate about 1,500,000 kWh of power annually while conditioning 185,000 square feet of space. The renewable energy generated will offset 2,040,000 lbs. of CO2, which is the equivalent of saving 237,789 trees. In just three months, the project created over 90 jobs and generated $2.6 million in revenue for the local economy.
Worldwide Leader
Vanir's vision is to lead the industry in providing cost-effective energy efficiency and alternative energy solutions, while providing for the needs of the communities it serves. It plans to develop fully integrated energy solutions to communities and businesses that provide value and carbon reduction.
At the helm is CEO, Dorene Dominguez, whose father founded the company in San Bernardino, California, in 1964. Dominguez recalls the company starting off as a small real estate company when her father acquired a duplex, followed by a triplex and an apartment building. By the late 1980s, Vanir ranked as the eighth largest Hispanic-owned business in the U.S.
In college, Dominguez was actively involved in the Young Republicans National Federation and was approached to run for Congress. Instead, she chose to focus on helping her brother and father with the family business. The siblings took over the company and expanded, adding Vanir Energy. After Dominguez's brother passed away, she stepped in to become CEO. Today, she sits on the boards of a number of charities, has been ranked on Fortune's "Top 50 Most Powerful Latinas in Business" seven years in a row, and is the first Latina to hold the distinction of NBA ownership status with a minority share in the Sacramento Kings.
Continuing a Path of Growth
Vanir is dedicated to expanding the benefit of solar power across the world through projects devoted to renewable energy, energy efficiency and energy analysis. Its current projects focus in three areas: solar thermal, solar photovoltaic and lighting retrofit. Solar thermal projects use solar collectors to provide cost-effective hot water solutions to businesses and residences with high hot water demand. Vanir currently has a number of projects underway under this umbrella, including the YMCA facilities in Northwest, North Carolina, the Vanity Fair Corporation building in Greensboro, North Carolina, and the Fletcher Business Park.
Most people who are familiar with solar energy think of solar panels. Vanir Energy has consistently developed solar photovoltaic technology in order to provide its clients with cost savings. Through roof mount, ground mount and car shade structure applications, solar photovoltaic projects harness the sun's energy to provide power at a largely reduced cost. The use of space for solar panels is integral to these designs. Vanir has utilized this technology for a number of projects in the California market: The Independent System Operator (ISO), Angels Camp RV Park, the Hayward Unified School District, and Raley's supermarket chain, which is headquartered in West Sacramento, California.
Vanir is also focused on reducing the costs of one of the largest energy expenditures – lighting. Through its lighting retrofit projects, companies can create a substantial reduction in energy costs. It is one of the solar retrofit updates that can provide immediate savings and a fast payback on initial investment. Gold's Gym, a major gym chain also in the California market, is among the lighting retrofit projects that Vanir has handled.
Answering the Challenge
Dorene Dominguez's experience at Notre Dame challenged her and her family to give back to their community. The commencement speech at her brother's law school graduation, delivered by Peter Ueberroth (chairman of the Olympic Organizing Committee and sixth Commissioner of the MLB), inspired her father to adopt his elementary school (Burbank Elementary in San Bernardino, California). Dominguez watched as her father provided the school with building maintenance, refinished the playground and provided food baskets for the families. This experience was the seed that guided her to start Dominguez Dream, founded in memory of her late father.
The organization serves elementary schools and underserved communities and empowers students through STEAM activities and parent engagement. Since 2004, the program has helped over 300,000 students and families throughout California and Arizona by providing after-school programs that reinforce the belief that they can achieve their dreams. The program also provides food gift cards, school uniforms and iPads for underserved students. Dominguez also maintains a strong connection to her alma mater, Notre Dame. She and Don Bishop, Assistant Vice President of Undergraduate Enrollment, host an annual Notre Dame Night, where underserved high school students can learn about the school, as well as the summer programs available to them.
Vanir Energy, led by Dominguez, is set to expand with offices opening at a record pace. Given the current environmental needs, Vanir, under Dominguez's leadership, is poised to take center stage in the competitive solar energy sector.
Headline photo courtesy of MarcMorrison.com ©2021.
Reprinted by permission. This article originally appeared in the September/October 2021 issue of OILWOMAN Magazine.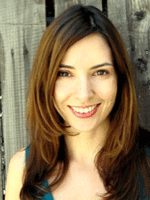 Claudia Melatini has been a content marketing writer in the private wealth, FinTech, and energy and renewables spaces for over 15 years. She has written for American Funds, Capital Group, LPL, RBC Wealth Management, Living Lela, Petnovations and more. Visit https://www.thepowerfulpage.com