The Canadian government recently announced the approval of Galaxy Lithium Canada's James Bay Lithium Project in Quebec, a milestone in the development of domestic North American lithium production. The approval is a significant win for the critical mining industry in Canada and North America and, while clearly affirming the commitment of Canada to its climate change goals, more importantly, it signals the country's efforts to decouple supply chains from China and onshore production operations of critical minerals.
With its significant reserves of lithium, cobalt, nickel and other critical minerals, Canada is well-positioned to play a key role in meeting the global demand for critical minerals. The James Bay Project marks the first of many hard rock lithium mining projects to be developed, and the Canadian government has stated that it intends to be aggressive in its support of future projects. Late last year, the government announced in its critical minerals strategy that it planned to take steps to speed up the approval of new mines in Canada to streamline the application process.
Given the considerable private and government investment in the development of lithium and battery supply chains in North America and Europe, it's very feasible that production will be built out in the medium term. Almost every day, another major company invests in a lithium-ion battery plant, EV plant or lithium mining/refining operation in North America, meaning there is considerable capital flowing into the space. It has the potential to foster an industrial resurgence in the West, rebuilding the North American high-tech manufacturing apparatus, alongside ensuring we can meet our climate change goals.
It's common for many to look at climate change and the energy transition as an impediment to economic growth. However, this perspective fails to realize the opportunity that exists for Canada to diversify its production of natural resources and become a global leader in the production of battery metals, ultimately driving economic growth and development. The push toward electric vehicles (EVs), as well as renewable energy requiring grid-scale lithium battery storage, is fueling a massive demand for lithium, with the commodity hitting record prices over the past year.
Although supply has tightened in the meantime, demand will no doubt continue to increase, with the World Bank predicting that demand for critical minerals will soar 500 percent by 2050. Thankfully, prices are expected to soften over time as further supply comes online, meaning they will remain very economical for producers and companies that continue to develop potential resources, especially those outside China.
For example, Africa is critical in supplying all minerals necessary to address the EV revolution and many of the other technologies needed to address climate change. The high-grade deposits found in Africa are the most economical in the world while presenting the least impact on the climate and the lowest greenhouse gas emissions. Next year, I expect that prices will remain high, around US$40,000/t for Lithium Hydroxide, and will begin to soften further in 2024 and 2025 as more producers outside China come online.
So, although production from China will no doubt have an impact on the price as supply and demand fluctuate, there is considerable pressure and support from Western governments to develop domestic production of lithium. As supply chains diverge and move closer to centers of production in the West, prices will fluctuate accordingly. Although China is currently far ahead of the rest of the world in EV production and has considerable use for lithium, as the West looks to develop its own sources, this will impact the Chinese lithium market.
The rapid wave of globalization since the early 1990s with the fall of the Berlin wall has been key in driving economic growth, prosperity and technological innovation over the past 30 years. I firmly believe that a globalized and integrated economy is the best and most efficient system to foster the economic prosperity of all.
All of that said, we live in a world of increasing geopolitical competition and tension, driven by more political and social forces than economic ones. The case for development of a domestic battery metal supply chain is not only made in context of the current geopolitical tensions that exist between China and the West, but is even reinforced in the event that tensions ease, however unlikely. Western governments, particularly the U.S., need to stimulate their economies with investment in high-tech industry, a sector in which they have fallen behind. In the current volatile macroeconomic climate, investment in commodities and high-tech industry are not only key to stimulating the economy, but also will be essential in building a modern economic platform for the future in what is quickly becoming a multi-polar world.
Ultimately, Canada has the potential to play a key role in the green industrial revolution through the mining of critical minerals. By investing in the development of a sustainable mining industry, supporting the growth of clean energy technologies, and investing in the domestic supply chain, Canada can drive economic growth, create jobs and contribute to the global effort to combat climate change. This energy transition will enable Canada to not only achieve its economic and climate goals, but also to separate supply chains from China and establish itself as a mining powerhouse and leader in the green industrial revolution.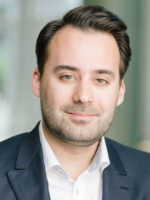 Zayn Kalyan is chief executive officer and director at Infinity Stone Ventures Corp. He started his career as a software engineer as employee #4 with a fintech start-up delivering risk solutions to financial institutions. After the sale of that company, he joined Altus and transitioned to venture finance. With the market shift toward commodities and the renewed focus on ESG companies,  Kalyan began to realize the criticality of exploration for minerals and their place as the base of the economy and growth. https://infinitystoneventures.com.