Working in politics introduced Kristal Hansley to a career in solar energy. She saw the laws designed to encourage increased usage of solar energy. She became familiar with the financial incentives made available through changing legislation and regulations. She also knew that members of the BIPOC community and low to moderate-income earners were being left behind.
"I saw how the incentives were geared to higher earners," she says. "They were mainly targeted toward those who had the privilege of knowing about federal and state tax credits."
During the early days of solar, owning property and installing panels on one's property were required, something that excluded renters and people with low credit scores. Long-term contracts added another barrier to participation for these groups. According to Hansley, millennials own 20 to 30 percent fewer homes than baby boomers, thanks to the 2008 recession. Because of that, they also were missing out on using sustainable, affordable renewable energy.
From Politics to Power
Three years ago, Hansley left her political career behind. She had served as program manager for the State Democratic Diversity Initiative liaison for Senate Majority Leader Harry Reid and led the Community Affairs policy in Congresswoman Eleanor Norton's office. She spent a short time selling electric cars before joining a community solar start-up. She admits it was a risky move, not knowing if the company would be around long-term, but it got her into the industry. 
"It allowed me to bridge my policy background with a love for the community to bring this to Maryland, especially to low and moderate-earner incomes," she says.
On Juneteenth 2020, Hansley channeled that passion into launching her company, WeSolar. There are currently 40 states with at least one community solar operation online and 19 states and Washington, DC, are supporting its growth through policy and programs.
Hansley's background is untraditional. She majored in politics rather than engineering or sustainability. She's a woman in an industry where only 26 percent are female and 80 percent of senior executives are men, according to the 2019 U.S. Solar Industry Diversity Study. In an industry where 88 percent of senior executives are white, Hansley is the first Black woman to launch a community solar company.
"Coming from a political, community background, I had my ear to the ground as to what was happening on the policy side and how it was planning to transition to clean energy," she says. "I wanted to make sure that BIPOC communities weren't left out of the equation."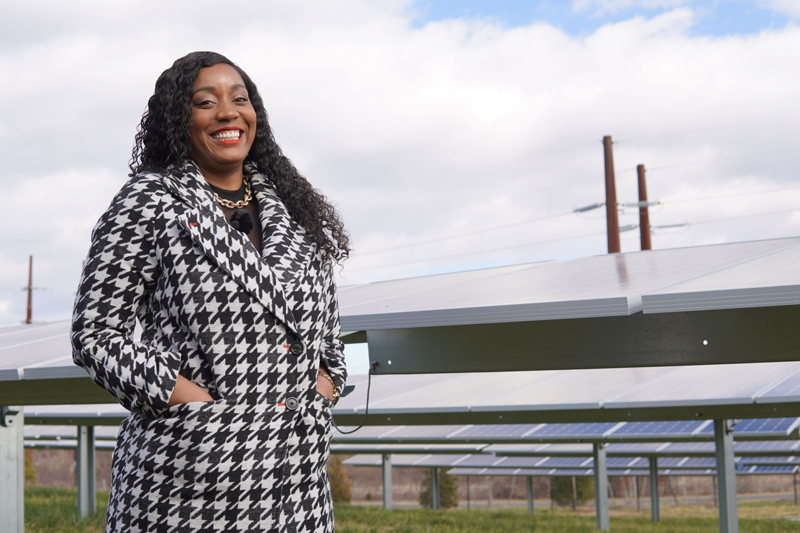 How Does Community Solar Work?
The U.S. Department of Energy defines community solar as, "any solar project or purchasing program, within a geographic area, in which the benefits of a solar project flow to multiple customers such as individuals, businesses, nonprofits and other groups. In most cases, customers are benefitting from energy generated by solar panels at an off-site array."
Anyone – even a person who does not own property – can participate. Apartment dwellers, business owners who rent space, organizations and municipalities can purchase solar energy from infrastructure built on a remote piece of property, often on farmland.
"If you can't install on your property, community solar is still an option for accessing savings and benefits," Hansley says. "It appears as a credit on your electricity bill."
Community solar-powered electricity is shared by more than one property. Usage is monitored through Virtual Net Metering (VNM), much like net metering in rooftop solar applications. In Maryland, where the Baltimore Sun reported that customers own $300 million in unpaid gas and electric bills, access to community solar can be a game-changer. Through WeSolar, Hansley is working toward reducing low to moderate-income customers' bills by at least 25 percent, a savings of about $300 a year. The company doesn't charge fees and allows for cancellations without penalties.
A Shining Career Path
Solar can't continue to grow without trade-specific trained experts; however, Hansley embodies the possibilities to use any skill set in the industry. She has seen Black and Latinx students discouraged because math isn't their strong subject, they had lower SAT scores or did not take a career STEM path.
"The solar industry needs everybody. No matter [what] your skill set [is], there's a job for you," she says. "How you start your career isn't necessarily how you finish."
Solar jobs have increased by 167 percent over the last decade, according to the National Solar Job Census. Between 2018 and 2019 alone, more than 5,600 new solar jobs were added nationwide. Florida, Georgia, Utah and New York lead the country in the number of new job openings in the field. Specifically, Hansley has seen significant marketing and management career opportunities emerge in the field, which she says are a perfect fit for women.
"We're nurturers biologically and, in a male-dominated sector like solar, that is a huge plus. Especially in the community solar side, it all boils down to trust," she says. "We need more diversity because it welcomes a perspective, a new generational lens. There's an intersection of what means to be a woman, Black and to come from a specific socioeconomic background. Bringing those together is how we solve climate change."
Reprinted by permission. This article originally appeared in the March/April 2021 issue of OILWOMAN Magazine.
Katie Navarra is a non-fiction writer. Her byline has appeared in Popular Science, The Motley Fool, Education Dive, ChemMatters, Society of Human Resources Management, Western Horseman Magazine and Working Ranch, among others.