The C-suite is ever-expanding with new titles being added as companies deem them crucial to their mission. A 2014 Forbes article referred to the Chief Sustainability Officer (CSO) role as "somewhat of a mystery." Seven years later, it is an essential position with growing significance and influence and, while the environment is central to its focus, it encompasses much more and has a farther reach.
Rebecca Ponton: In your view, why is it important for companies to have a chief sustainability officer (CSO)?
Freya Burton: Today, sustainable leadership matters. While working in sustainability is not necessarily a new role, a chief sustainability officer's position has been elevated to an executive role as more CEOs are managing their companies with environmental and long-term sustainable development goals in mind. Sustainability reporting is also becoming a vital part of business today. Sustainability is not just a box we are checking off; it is a central part of our business strategy. Also, customers are thinking more about people and the planet. Attracting top talent requires companies to be smarter in supporting people and the earth while still earning a profit.
Giulia Chierchia: The world needs sustainability, perhaps now more than ever. It's about the environment and it's also about people and recognizing the inequalities that COVID-19 has exacerbated. In our sector, as we navigate the energy transition, sustainability is core to our journey. Conducting business sustainably is not just a good thing, it energizes employees – 90 percent of employees in the U.S. say it enhances their job satisfaction – and creates business value. In our Energy Outlook rapid scenario, 40 percent of the energy mix transitions out of fossil fuels by 2050, including 3200GW of renewable capacity to be developed by 2030. This represents millions of jobs and trillions of dollars of investment opportunities. A sustainable strategy drives resilience and helps companies like bp deliver on our purpose and remain relevant to employees, shareholders, customers and society as the world transitions to a green future. That's why it's important to have a CSO, and increasingly important for sustainability and strategy to come together.
Janelle Daniel: From an organizational perspective, the chief sustainability officer is a company's sustainability champion. This role has a pulse on key stakeholders and their priorities ensuring the company's strategic decisions consider the potential impact to all. As the most experienced offshore drilling contractor, we recognize we have a responsibility to continuously challenge existing norms to ethically, safely and efficiently deliver incremental value to our stakeholders with a keen view toward protecting our environment and building diversity in the workplace. Business success and sustainability are two sides of the same coin: we are not able to do good things without being a successful company, nor can we be a truly successful company without doing good things. Keeping the gap between these two statements in focus is the role of the CSO.
Lisa Johnston: The role of CSO may be a relatively new one, but it is fast becoming essential in the executive suite, as concerns about our environment increasingly dominate the global agenda. A CSO drives the sustainability strategy of an organization, champions its efforts and is now a fixture in the C-suite. The benefits of putting sustainability at the heart of corporate strategy are multi-fold – from improving the company's reputation and making it more likely to attract and retain talent, to doing our part in preserving a healthy world for the communities in which we operate.
Customers increasingly expect businesses, rather than governments, to take direct action on environmental initiatives. In addition, investors and other market players are increasingly integrating Environmental, Social and Corporate Governance (ESG) considerations into investment decisions, according to the Organization for Economic Cooperation and Development (OECD). Corporate governance and sustainability are now also increasingly relevant to many employees.
Jannicke Nilsson: It's imperative that sustainability does not end up being window-dressing, but instead be an integral part of the company's strategy and business. Having a dedicated head of sustainability, and a team supporting that person, enables a business to drive change and allocate enough resources and management attention to issues relating to sustainability. As with other important skills, having experience and competence within sustainability and a dedicated group are building blocks if you want to create positive long-term change and impact, as well as mitigating risks and potential negative impact. Transparency around these issues is also an area where a head of sustainability can contribute.
Angela Rodriguez: While the title is a clear indication of commitment and intent, we think it is more about the substance of the work. As the Director of Climate Strategy & Sustainability, I help ensure that the environment and sustainability are fluidly aligned to all other major strategies in our enterprise portfolio, and I am supported directly by our president & CEO. As Director, my job is to champion environmentally responsible activities such as energy efficiency, recycling, reducing emissions and saving water. Additionally, I work to guide our organization to take it up a notch to ensure that the energy we are creating for customer's businesses and homes is generated in an Environmentally Responsible and sustainable way. We help our community achieve their sustainability goals by integrating in cleaner generation sources and offering programs to help them reduce their use.
RP: Explain the CSO's impact on corporate culture and in the community at large.
FB: My official title at LanzaTech is Chief Sustainability and People Officer. So, it is my job to impact our corporate culture positively, and within the communities we serve for our company. Employees want to work for a company that focuses on people and the planet. It is easy for us since our company was created to turn pollution from factories into fuel, food, chemicals, and other products. We also find time to celebrate our accomplishments and celebrate the people that made it possible. Finally, we have operations worldwide, and our mission makes it possible to unite a team that lives all over the world.
GC: I see the CSO as an ambassador [for] sustainability, shaping the direction and cascading our actions internally and externally. At bp we developed a sustainability frame, focused where we believe we can make the most difference, and anchored around four building blocks. First, three focus areas – net zero, people and planet; second, clear aims underpinning those areas and driving our efforts; third, ingraining sustainability into our DNA: in our projects, brands, operations, retail sites and also in our investment decisions and our culture more broadly. And finally, partnering and engaging with others to learn, to leverage our activities and to create transparency on our sustainability efforts. The CSO – together with the broader leadership team – is very much the architect of these four core areas, key to leading a successful sustainability transformation.
JD: Like other businesses, we are setting out to carefully consider our stakeholders, internal and external, and their future as we plan our own. This requires creating a culture where we seek out, listen to and value the voices of our employees and society. I'm in a unique position as our corporate head of both sustainability and human resources, which requires a forward-thinking mindset from both a strategy and policy perspective and a talent perspective, ensuring our ability to attract, retain and motivate the best and the brightest. We know that people today want to work for companies whose values align with theirs and delivering on sustainability is core to this.
Additionally, every aspect of the business has a role to play in sustainability. In fact, some of the best ideas and implementation of sustainability initiatives come from the people on the rig or on the ground in the community, who see the challenges and opportunities firsthand. Our goal is for everyone within our organization to be a sustainability advocate and for sustainability to be at the foundation of all we do – from the development of new technologies that reduce our carbon footprint to the sourcing of sustainable equipment and materials to, most importantly, the integral work done offshore on our rigs. The CSO can facilitate this culture and encourage others in the organization to promote it within their disciplines, as well.
LJ: CSOs can have a big impact on business and, with organizations across the world focused on surviving the COVID-19 pandemic, our role has become more important than ever. Businesses with robust and established sustainability schemes are more likely to perform well during a downturn, and those with a defined corporate purpose, awareness of broader societal challenges, engagement with stakeholders and a collaborative culture are more likely to be successful.
As business leaders, it's our duty to go further and faster than we believed possible, to realize a sustainable future through digital transformation. Digital technologies are already helping cut carbon emissions by up to 15 percent, in energy, manufacturing, agriculture, buildings, services, transportation and traffic management. This corresponds to more than the combined carbon footprints of the E.U. and the U.S. combined.
JN: Just a couple of years ago, sustainability was often thought about in more limited terms related to environment. We have moved far beyond that and sustainability should, and is in Equinor, embedded in the way we work – both in terms of what we do and how we do it. Our sustainability priorities reflect our context, strategy and values. It still covers environment, but also climate, human rights, integrity and how we relate to society around us. Recently, we have seen that the impact on society at large is given more weight by stakeholders, as is continuous dialogue with society.
AR: Sustainability is ingrained in our corporate culture and Environmental Responsibility is equal to our other core pillars of Reliability, Affordability, Security, Safety and Resiliency on our foundation of Financial Responsibility. Internally, we help communicate the path forward to employees to create an understanding of why sustainability is important and how it will impact them. We are also out in the community talking to customers and gathering feedback on our future plans. Our employees work every day to make sure our community knows that we care about our collective future. We live here too and want our community to thrive.
RP: How do you see the role of CSO becoming increasingly relevant as we move forward with the energy transition?
FB: The CSO will play a vital role in any company focused on sustainability. With more companies taking a net zero pledge or more companies transitioning to zero emissions, our role is increasingly important. There are also new standards for sustainability reporting, and if your company works in a variety of countries, there are a plethora of rules to comply with. Executives will continue to rely on the CSO for guidance, and the companies you are doing business with will look to you to lead by example.
GC: The energy transition is all about sustainability, a shift from the path the world is on today. This is about taking a holistic view, addressing emissions and climate change – global temperatures have already risen by 1.1 degrees Celsius compared to the pre-industrial baseline used for the Paris goals – as well as social inequality and protecting our natural environment: net zero, people and planet.
In this context we shaped a new ambition – to be net zero by 2050 or sooner and help the world get to net zero – as well as a new strategy to pivot bp from an international oil company to an integrated energy company. Our strategy goes hand in hand with our three focus areas of sustainability and our reinforced aims and commitments for net zero, biodiversity, human rights and our support for a just transition. As we move forward with the transition, strategy and sustainability will become increasingly interlinked and that's why we have brought the two roles – strategy and sustainability – under the same senior leadership.
JD: Our work takes us to some of the most amazing places on earth. It is our duty to be aware of the environment around us and to ensure our activity does not adversely affect it. This compels us to back words with actions and to continuously seek efficiencies and technologies that reduce our environmental impact.
If the world is to deliver on its environmental goals, the scope and scale of change in the energy industry will be tremendous. To manage through this change, we must think outside the box and never be satisfied that we have hit the mark. We must continue to engage our entire organization, pursue joint efforts with our customers and supply chain, and work collaboratively with the communities that host our operations. The role of the CSO is to stay ahead of the trends, stay connected with stakeholders across the board, and steer the organization's sustainability efforts with a focus on resilience and adaptation.
LJ: With sustainability and survivability at the top of most businesses' agendas as the pandemic continues, the role of CSO is likely to become ever-more relevant. The next 10 years will be critical to the world's success in tackling climate change through the sustainable development goals – it's been called the Decade of Action. And, as it kicks off, it has never been more important for industries to harness the full potential of technology to make a difference.
There are four themes we consistently hear are driving our customers' environmental sustainability agendas when we meet them: tackling climate change, the need to boost circularity, the energy transition to renewables, and the drive for enhanced transparency and traceability in operations and supply chains.
JN: For Equinor the most important strategic challenge we have is climate and, therefore, sustainability is embedded in our strategy. It's about what it means for demand for our products, our license to operate, our existing portfolio of assets and, not least, new business opportunities that will come from the energy transition. Our head of sustainability and team have worked on this for many years and are internal champions and external ambassadors for the path Equinor is taking in building a robust strategy enabling us to become a leader in the energy transition. Our purpose also reflects this: Turning natural resources into energy for people and progress for society.
AR: The energy transition is underway and creating a sustainable strategy and path forward is exactly what we have done at CPS Energy. Our Flexible Path is our pathway to move forward and blend in new innovative technologies with our current tried and true sources. Our Climate & Sustainability team works across our entire company to provide input into every strategy that helps move towards emission reductions including our electric vehicles strategy, energy efficiency and conservation programs and addition of new clean energy sources.
RP: Share any particular initiative(s) your company has planned (or has already enacted) in the area of sustainability.
FB: In 2018 our EHS committee spun out a Green Group, made up of volunteers who focus on sustainability in the workplace. Initiatives have varied from changing our waste management practices in our laboratories and instituting recycling schemes for lab consumables to hosting a weekly community engagement event for Earth Day and starting a bicycle and carpool commuter incentive scheme.
GC: In February 2020, we launched our net zero ambition and our purpose – re-imagining energy for people and our planet – and we've made a lot of progress since, starting with a new biodiversity position and updated commitments to human rights. In August 2020, we presented a new strategy that supports our ambition and is driven by our customers, who are increasingly demanding low carbon energy, and we responded with our plans on renewable power, electric charging or sustainable aviation fuel. At the same time, we developed new partnerships to advance the energy transition – in offshore wind with Equinor and more recently with EnBW, with the cities of Houston and Aberdeen and companies like Microsoft or Qantas. We also expanded existing relationships; we recently signed a strategic agreement with Rosneft on carbon management and wider sustainability. And we went beyond bp, too: we are supporting Terra Carta, a charter created by HRH the Princes of Wales, and the Council for Inclusive Capitalism with the Vatican. We expect to be sharing more updates in spring 2021 as part of our annual sustainability report.
JD: Our sustainability commitment is to deliver value to all our stakeholders while minimizing our environmental footprint and maximizing our social responsibility. It's a broad remit. However, among the general goals we have set out during our annual sustainability reporting are:
Improving the health and financial security of our employees while providing them with a more diverse and inclusive work environment. We continually assess our employee benefits to keep them relevant for our changing workforce. And we are focused on development programs to build opportunities for advancement for a diverse population.
Conducting our operations incident-free, all the time, everywhere, through the advancement of training and safety programs and tools to protect our people, our assets, and the environments in which we operate.
Researching and developing processes and technologies that improve the safety, reliability, and efficiency of our assets, and reduce the impact that our operations have on the environment.
Investing in programs to support the global communities where we operate.
One of the most important actions Transocean has taken for 2021 is to establish a Sustainability Advisory and Action Committee consisting of cross-functional, multi-geographic leaders tasked with connecting strategy to execution and building a roadmap to deliver objectives against our long-term sustainability goals.
LJ: AVEVA recently joined two global corporate sustainability initiatives – the first being the United Nations Global Compact. Joining the UN Global Compact cements our existing commitment to align our strategies and operations with universal principles on human rights, labor, environment, and anti-corruption and to take actions that advance societal goals. We look forward to leveraging the learning and collaboration opportunities that the UN Global Compact provides to advance positive change and help deliver on the 2030 goals alongside companies like Schneider Electric and Microsoft.
We have also joined Business for Social Responsibility (BSR), which works with its network of more than 250 member companies and other partners to build a more just and sustainable world. It also has deep expertise in helping companies structure their sustainability reporting to create mutual benefit for both business and society. Membership of these expert groups will enable us to strengthen and deepen our sustainability focus.
We've worked hard to put the foundations in place to accelerate AVEVA's leadership in this important area and we have a strong ambition to do so. The steps we are taking include:
Evaluating opportunities to increase our investment to positively impact our customers' sustainability goals. This includes using sustainability as a criterion for our own investment and R&D decisions and tracking how we can advance sustainability.
Building our network of collaborators to build our sustainability expertise and extend our capabilities.
Committing to partnering with others that share our limitless possibilities mindset to meet the objectives of the UN Sustainable Development Goals, prevent the worst impacts of climate change and advance more equitable economic development.
JN: Last year Equinor launched an ambitious climate roadmap, including a net zero ambition for 2050 and significant step-up in investment in renewable energy and low-carbon solutions. Our sustainability team has been instrumental in developing the roadmap and our ambitions, and it will be an essential tool in implementing the strategy. We have recently announced a reorganization of the company and sustainability has also been placed in our corporate executive committee as part of the safety, security and sustainability area that I have the pleasure of heading up. In June we will announce our updated strategy, and sustainability is core to the process leading up to that.
AR: At CPS Energy we have been proactively making sustainable decisions for years, reducing air emissions, using recycled water at our power generation facilities and recycling our waste. We have been a leader in adding wind and solar to our diverse generation portfolio. Most recently we partnered with the City of San Antonio to create the Climate Action & Adaptation Plan (CAAP) that has a goal of net zero carbon emissions by 2050. Through our innovative Flexible Path strategy, we will add more solar, energy storage, more energy efficiency programs, as well as help the transportation sector with Electric Vehicles as we transition to an even cleaner future for our community. For a more detailed overview of our environmental efforts, you can view our 2019 Environmental Sustainability & Stewardship Report here.
Reprinted by permission. This article originally appeared in the March/April 2021 issue of OILWOMAN Magazine.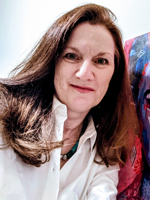 Rebecca Ponton has been a journalist for 25+ years and is also a petroleum landman. Her book, Breaking the GAS Ceiling: Women in the Offshore Oil and Gas Industry (Modern History Press), was released in May 2019. For more info, go to www.breakingthegasceiling.com.