Action Steps for Everyone
We can all take action and get involved in leveraging the urgency and outrage about both the coronavirus crisis and the climate crisis to transform society to be more just and equal. And we can all be involved in leveraging the urgency and outrage about racial, gendered and economic injustices to accelerate the transition to a renewable-based society. To support antiracist, feminist leadership on climate and energy and diversify power, there are many action steps we can take.
Prioritize Diversity, Equity and Inclusion in Everything We Do
Operationalizing antiracist, feminist principles requires us to prioritize diversity, equity and inclusion in everything we do at every level. When we fail to do so, we are perpetuating inequities by reinforcing traditional practices that exacerbate racial and gender disparities. Diversity refers to all the ways in which people differ, encompassing the different characteristics that make one individual or group different from another. We need to elevate the value of diversity of all kinds – diversity of ideas, of people's backgrounds, of people's approaches – in our organizations and in our communities, in all spheres and at all scales. Equity refers to the fair treatment, access, opportunity and advancement for all people. Equity also involves striving to identify an eliminate barriers that have prevented the full participation of some groups. Inclusion refers to the act of creating environments in which anyone will feel welcomed, respected, supported and valued to fully participate. Diversity, equity and inclusion must be consistently prioritized and integrated into all our households, communities and organizations as well as in all policy areas including job creation, education, public health, transportation and housing.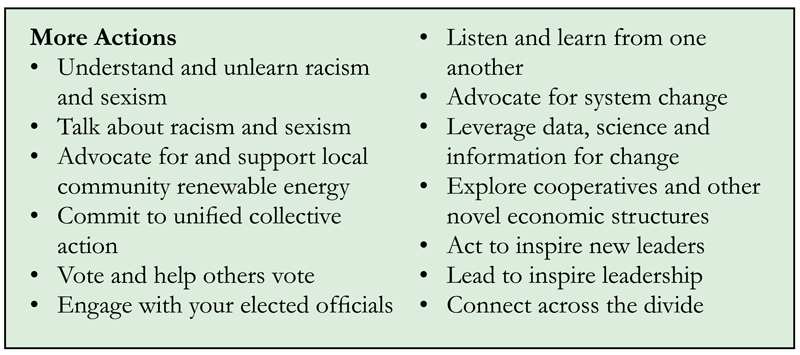 Define Your Role
As the previous suggestions imply, each of us can define our specific role based on our individual strengths and passions – and many of our roles may change as we engage, learn and adapt to the dynamic political landscape. There are many different ways to contribute to the growing momentum for social transformation, and each of us must choose to engage in ways that make sense for us. In our activism, it is important to be able to articulate for ourselves what we're fighting for, not just what we were fighting against. Despite the inevitable struggles ahead, it is an exciting time to be alive, and being part of a growing social movement for transformative change can be amazingly fulfilling and rewarding. Being active and connected to others who share priorities and are engaging in similar ways brings both hope and joy as we work collectively with compassion and in solidarity.
Reprinted by permission. This article originally appeared in the November/December 2020 issue of OILWOMAN Magazine.
Jennie C. Stephens is an educator, social justice advocate, energy expert and sustainability science researcher. She is a professor and the director of the School of Public Policy and Urban Affairs at Northeastern University, where she also holds leadership roles at the Global Resilience Institute in the Women, Gender and Sexuality Studies program.