"Change is coming so very fast in the energy sector," Lorraine Akiba says. "For those at the edge, innovation technology is changing the model that has been used in the past."
Hawaii is leading the way in meeting challenges and gaining benefits for utilities, policy makers, regulators, clean energy producers, consumers and innovative companies. Akiba has been part of the evolution as a lead environmental attorney, public utility commission member, advisory board member and now as founder of a consultancy to advise others on the clean energy journey.
Striking Out on Her Own
After a career that has included leading environmental law at two law firms, serving as Hawaii's Director of Labor and Industrial Relations, and sitting on the Hawaii Public Utilities Commission (PUC) from 2012 to 2018, starting her own consultancy focusing on energy policy issues seemed a natural next step. Akiba founded LHA Ventures in 2018.
"I'm used to dealing with disruption, used to being a change and crisis management strategist and dealing with business transformation," Akiba says. "One of my strong suits during my practice as a commercial litigation attorney was always on management teams facing challenges. I like the challenge and I have the personal fortitude and skills to address difficult situations and work together with others to achieve positive outcomes. That's important when experiencing disruption."
Many of Akiba's international clients are, like Hawaii, trying to get to 100 percent clean energy. They are looking for solutions to technical problems related to clean energy and working to demonstrate progress to institutional investors and customers, she says.
Hawaii Leads the Way to Clean Energy
"The policy is Hawaii is very forward thinking," Akiba says. "We've been on this journey since 2008. We were the first state in the United States to adopt a [goal of] 100 percent renewable energy standards by 2045. We have the highest per capita of renewable energy on the grid – not just solar, not just wind; we have geothermal, hydro, biomass and waste-to-energy. Because of the constraints on resources, because we are an island, necessity is the mother of invention."
Since Hawaii faces singular resiliency challenges and is ahead on adopting clean energy, other states can learn key lessons. (Waving at you, Texas.)
"Because we're an island, we don't have an energy balanced market," Akiba says. "Hawaii is so small, so isolated, that not only is reliability of supply important, but also adequacy of supply, being able to support intermittent renewables and also [the ability to] be fast-responding. Each island has to be its own grid. We built real-time insight into the operation of the grid. We're looking at microgrids not only for energy but also for resiliency."
"We learned a lot from Hurricane Maria in Puerto Rico and from Hurricane Iniki, which devastated Kauai. We learned that you have to put resilience and reliability as co-priorities.
Planning for resilience is making sure you have a modernized grid that can withstand what might happen given the impacts of climate change and the increased frequency and greater intensity of storms and hurricanes."
Distributed energy makes sense in Hawaii because the multi-island state doesn't have a lot of available land for wind farms; existing land is marked for high-end commercial, agriculture and military use, Akiba says.
"Residential rooftop solar is a big resource, something we can teach the mainland U.S. When you have to do it all on one little grid, everything has to integrate and coordinate. We have broken with the old ideas of central stations, the old distribution model of getting energy to customers. We have a lot of distributed energy resources, lots of houses that are self-supplying. [We] can do smart exports to support the grid and allow their [home] systems to be controlled by grid operators."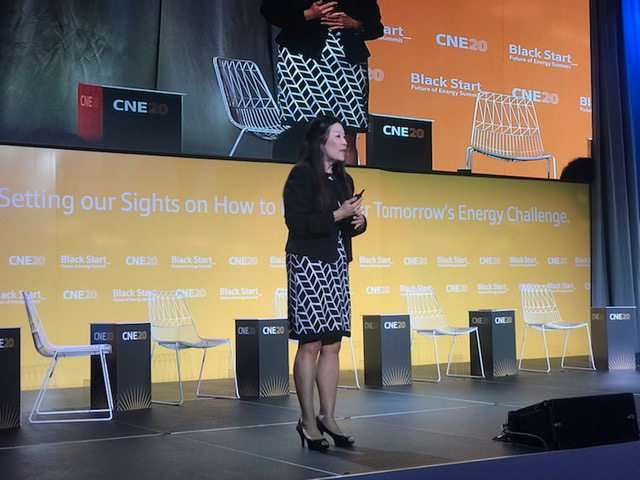 Transition to Clean Energy Hasn't Been Seamless
Adding more home solar to the grid wasn't a perfectly smooth transition in Hawaii. Transmission lines are designed to optimize flow from distribution stations to individual customers, not power flow to the grid from those individual solar systems. That led to problems, including home solar that could not be connected to the grid.
During Akiba's term on the PUC, Hawaiian Electric, working with SolarCity/Tesla, and the U.S. Department of Energy's National Renewable Energy Laboratory, completed testing on the ability of inverters to mitigate transient overvoltage impacts on the grid and addressed concerns which enabled Hawaiian Electric to allow more distributed rooftop PV to be interconnected. The limit increased from 125 percent of minimum daily load to 250 percent of minimum daily load, which was the highest amount in the nation.
"Before that, we were flying blind," Akiba says. "How much rooftop solar could you put on a distribution circuit? We didn't have the ability to determine what would happen. We were looking to get real-time views into the distribution circuit. Mitigation tools, such as voltage measurements on the grid, solar panels with reactive power, became available. Those things started to become part of a coordinated, integrated way to operate the grid."
The transition to clean energy also involves demand side management and greater energy efficiency.
"You can't build enough plants to get to 100 percent clean energy with solar and wind facilities," Akiba says. "You need other tools – whether through energy efficiency, time of use rates, using electric vehicles in a smart way as a load management tool – as opposed to creating a crisis at peak times."
No Place Like Home for Mentors
As Akiba powered through workplace challenges, she looked to her mother, Florence Iwasa, as her example and first mentor.
"My mother (who passed away in 1995) was a trailblazer. She was an Asian-American doctor in the 1950s and '60s, which was unheard of. She showed me you have to have the courage, the focus and the dedication to continue something, even if people have backward ideas. You have to rise to the occasion and demonstrate you have the capability to do the job. She also taught me that [succeeding as a woman] does take a lot of sacrifice. I appreciate every sacrifice she ever made for me. She took a job in a clinic instead of being in private practice so she could be with me when I came home from school. My parents sacrificed to send me to an expensive private school. Education is a great equalizer and a great power tool."
Diffusing Tricky Situations with Humor
When Akiba started at Cades Schutte law firm in Honolulu in the 1980s, there was only one female partner. Akiba learned to diffuse difficult situations with humor, teaching a lesson in a positive, face-saving way.
"Back then, it was unusual to see a woman in a law firm. One time a client thought I was a secretary and asked me to get a cup of coffee. I smiled and said, 'Are you sure you want to pay me at my hourly rate for that?' That client turned out to be one of my good clients."
Akiba got used to being the first woman and appreciated the male mentors who were willing to help her and judge her based on the quality of her work. "I've always been the first, one of the first or one of a few. I was the first woman director of labor for the state of Hawaii. My success has been partly a result of having men who are willing to support qualified women who can take up leadership positions."
Success sends a strong message. Women and others should always be able to demonstrate they're qualified to do the job and be a leader if given the opportunity, she says.
"At my last law firm, one of the younger partners and I were the top rainmakers bringing in revenue. We demonstrated our competency and the ability to be in leadership positions. It's important for women to be confident, not to shy away from responsibility."
Getting girls and young women into STEM education is a key step to having more women in the leadership pipeline, Akiba says.
Putting women in positions of leadership is not just a feel-good exercise or a way to meet diversity goals. "Data show that organizations that are led by women are more productive, more profitable and have higher workplace positivity scores. Teamwork is better."
Looking ahead, Akiba has set these personal goals for the next three years:
Continuing to provide thought leadership and strategic guidance to boards regarding corporate Environmental Social and Corporate Governance (ESG) management and operationalizing ESG in companies to benefit shareholders, investors and the broader stakeholder community of customers, employees and communities where those companies do business.

Being impactful and supporting actions to increase gender diversity in corporate management and being an active part of the collective national effort to attain 50 percent women on boards and in the C-suite by 2050.

Making a difference in her community in Hawaii by being a steward for sustainability and mentoring the next generation of Asian American and Pacific Islander women leaders.
Reprinted by permission. This article originally appeared in the May/June 2021 issue of OILWOMAN Magazine.
Karen Haywood Queen covers manufacturing technology, energy, personal finance, cybersecurity and health. Her work has been published in a variety of publications including Smart Manufacturing, Better Homes and Gardens, CreditCards.com and Costco Connection. She lives in Williamsburg, Virginia, with her rocket scientist husband.