"I always wanted to be the love-child of Beyoncé and Bill Nye the Science Guy," Jessica O. Matthews says with a laugh. "That's the perfect embodiment of hard work, looking good, but also the science – the belief and interest. Bill Nye the Science Guy made magic real, and the more accessible [science] is, the greater chance we have at living in a better world. We need to empower more people to engage with topics that seem out of reach."
As a child, Matthews always enjoyed "tinkering" and inventing things. The first commercial invention by the Harvard-educated CEO of Uncharted Power, who has both a bachelor's in psychology and economics and an MBA from the school, was a soccer ball she, along with three college classmates, created for an engineering class. After 30 minutes of play, the ball generates enough energy to power a small, attachable LED light for three hours.
Born in New York, Matthews, is a dual national, holding both American and Nigerian citizenship. She was motivated to create SOCCKET after attending an aunt's wedding in Nigeria, which was disrupted by a power outage, and seeing how people – including two cousins, who are engineers – simply accept such things as a fact of life. (Matthews says, "And that's a global issue.")
Witnessing how people's mindset and attitude change when they play soccer – the number one sport in the world – also inspired her to help invent the combination soccer ball/light. "It was a total 180. That's when they would dream and [show] passion and test the parameters of what's possible. That dare-to-be great [attitude] is what we needed to bottle and bring off the pitch and into the world of energy." She also created a jump rope, called PULSE, based on the same technology.
"I wouldn't say I did this strategically but, in hindsight, by entering [the utility industry] this way, it was less scary for me, but also less scary for the market. I was given five to 10 years to perfect embedded power systems. No one really saw me as a threat because they thought, 'Oh, she's just playing with toys.'"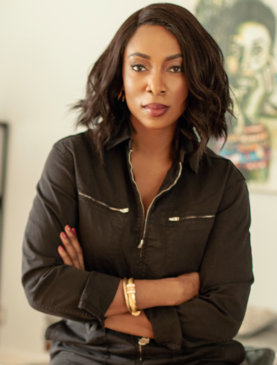 That "dare to be great" mindset is one Matthews herself needed time to internalize, saying it took a decade for her to believe that she could be at the helm of an infrastructure company. She eventually came to the realization that it was a mistake to think other people were better suited to the task.
"There's always a bit of uncertainty as a female entrepreneur. As female CEOs, we tend to stay in our lane and only do what we know we can do with certainty. It took time before I became even remotely comfortable with the idea of addressing infrastructure-level problems. I used to think, 'If I'm not the best person to do something, should I do it?' And now I tell myself, 'But am I the worst?' This is certainly not the time for me to cower."
Matthews has taken the lessons she's learned over the last decade and applied them to infrastructure, which has put her company in a "really exciting, unique place that you almost couldn't design on purpose. I tell my team – regardless who they are – 'We need to pull out our Black Girl magic today!' I'm very proud of my team for what we've been able to do with limited resources."
Uncharted Power now has access to another type of magic its competitors don't. NBA legend, Earvin "Magic" Johnson, who first invested in the company during its Series A funding round in 2016, joined its board of directors late last year, and a formal announcement was made in March. (According to the company, the $7 million raised in 2016 was the largest Series A, at the time, for a black female founder. To date, the company has raised $12.5 million.)
Although Uncharted Power is a global company, it is concentrating the piloting, testing and certification of its infrastructure in the U.S. where Matthews says regulatory rules are some of the strongest and far-reaching. (The system is AASHTO HS-20 rated.)
Headquartered in Harlem, the company has a testing and demonstration facility in upstate New York, where installations are done, and is currently focusing on a pilot site in the Tri-State area, where the focus for the next two years will not only be to demonstrate the technology as it functions for a full, smart, sustainable city, but how to partner with a municipal government and arrange financing. The model will later be expanded to other cities in the U.S., Africa and potentially Latin America.
While Matthews wants her employees to bring their "full selves," to work and to be comfortable in their work environment, she doesn't subscribe to the belief that women need to act like men in male-dominated industries, like power and utilities, where women comprise about 21.4 percent of the workforce, according to Catalyst.
"Women often feel that everything that makes them unique, and gives them a dynamic perspective they bring to the table, will also ostracize them in their chosen industry, and so it has no place in their work environment. As difficult as it is, that mindset must be overcome. [Women's perspectives] are imperative for equitable design. Imagine how much easier life would be if women were involved in designing public spaces and the built environment – from prioritizing well-lit streets to considering how to better navigate public transportation with baby strollers – the nuances of various experiences can make a huge difference in the aggregate design. In the energy space, you're not just talking about the pure functionality of the utility but the long-term use and efficacy of it."
"No matter what happens over the next few weeks and months, the world is not going to be the same. We're excited to be part of the post COVID-19 world where people can feel engaged and feel like they have agency to build the world they want. There's a lot technology can do to make our lives better and safer. We can be so much more."
Reprinted by permission from the author. This article originally appeared on Forbes.com on April 17, 2020.
UPDATE: Jessica O. Matthews was appointed by U.S. Secretary of Energy Jennifer Granholm to the Electricity Advisory Committee of the U.S. Department of Energy (DOE) in October 2021.
Headline Photo: Jessica O. Matthews (far right) gives a tour of Uncharted Power's testing and demonstration facility in upstate New York. Photos courtesy of Uncharted Power.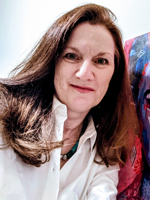 Rebecca Ponton has been a journalist for 25+ years and is also a petroleum landman. Her book, Breaking the GAS Ceiling: Women in the Offshore Oil and Gas Industry (Modern History Press), was released in May 2019. For more info, go to www.breakingthegasceiling.com.