Advanced Freight Dynamics has built its reputation on excellence in shipping and logistics from the smallest shipments to the most complex projects, with a constant focus on serving its customers' cargo transportation needs. The company is capable of managing every aspect of any transportation project, regardless of origin, destination or size of the shipment. Its customers rely on it to be their trucking company, freight broker, freight consultant, and soon to be crane and rigging company. Husband and wife team, Steven and Alana Lyons, talk to ENERGIES Magazine about the niche market their company serves on the transportation and logistics side of the energy industry.
Rebecca Ponton: Advanced Freight Dynamics specializes in over-dimensional freight. Obviously, you saw a need and decided to fulfill it, but what led you to focus on this specialty?
Alana Lyons: Our customers led us to this specialty. When we began this business, we started off offering flatbed and step deck services. Our customers appreciated and were extremely grateful for finally finding a trucking company that was honest, focused on customer service, dependable, reliable and always outgoing. With these characteristics, our customers requested that we take on more of their projects, which included their heavy haul and oversize shipments. As we began to broaden our horizons, this led to opening doors purely by word of mouth. When customers hear about what we have to offer and the kind of jobs we do, they are receptive to giving us a shot. They quickly realize how the right people have been brought into their life at the right time.
Steven Lyons: When we started this company, everything to do with trucking was a challenge –finding the right customers, drivers, equipment and employees. As time went on, it became easier to gain customers with our reputation of excellent service, and we quickly moved into specialty freight. Once we made our footprint in that market, the challenges started again and we had to adapt quickly to a new market. The challenges of each and every move became greater with the size of the load at the time of movement. We came to realize that we enjoy the challenges that are put in front of us in this market to the point that we buy bigger and bigger trailers every year to endure greater challenges. Strength doesn't come from what we can do; it comes from overcoming the things we once thought we couldn't do. From legal flatbed loads to 19 axle 240,000 lb. loads, we feel like the sky is the limit with our growth potential.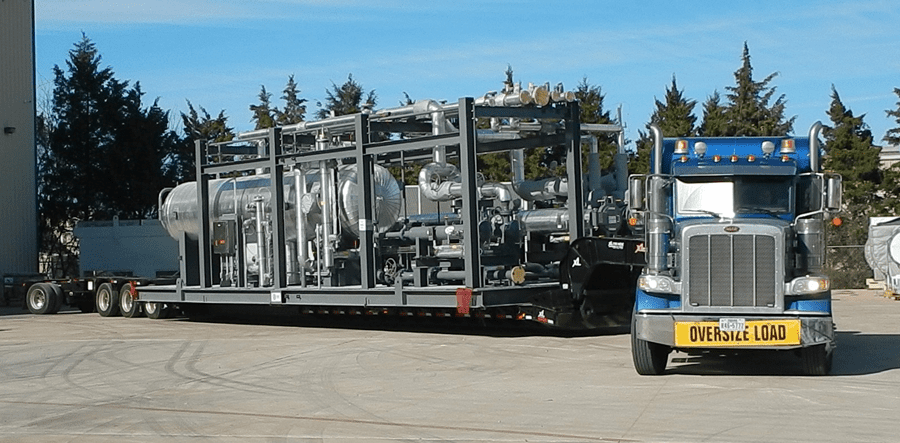 RP: What kind of trucks/vehicles do you use to transport these over-dimensional loads? Have you ever had to custom make a vehicle to transport something?
AL: With this abundance of work, we quickly realized we needed to restructure our equipment. The question arose, "How can we haul our customers' oversize and overweight freight most efficiently?" The answer was to create certain configurations with our trucks and trailers, which often led us to custom ordering the majority of our equipment. Now, we have a wide range of multi-axle trucks and trailers. Our largest trailer is a 15-axle trailer and we can turn it into a 20-axle configuration with the truck. With all of these different set ups, we can haul an individual oil tool all the way up to a massive wind component that weights up to 280,000 pounds.
SL: When we first moved into specialty oversized freight, I quickly saw an opportunity to save our best customer a ton of money on shipping while increasing my profit margin at the same time. We were hauling loads 16' wide to Oklahoma six to 10 times a week round-trip, which means we were moving two units per truck with a weight of 34,000 lbs. I sat down with our customer and explained how I could haul three units per truck for a huge cost savings for our customer, if he would agree to split the savings by increasing our line haul revenue. I went out and purchased the lightest trucks and trailers to now move two loads of freight, which used to take three loads to move, and gained a loyal customer for over 12 years now, as we consistently find ways to lower his costs of shipping. Now, with heavy haul we have had to adapt and purchase heavier duty trucks and add auxiliary transmissions to them, and purchase the state-of-the-art steerable trailers to be able to haul almost anything put in front of us.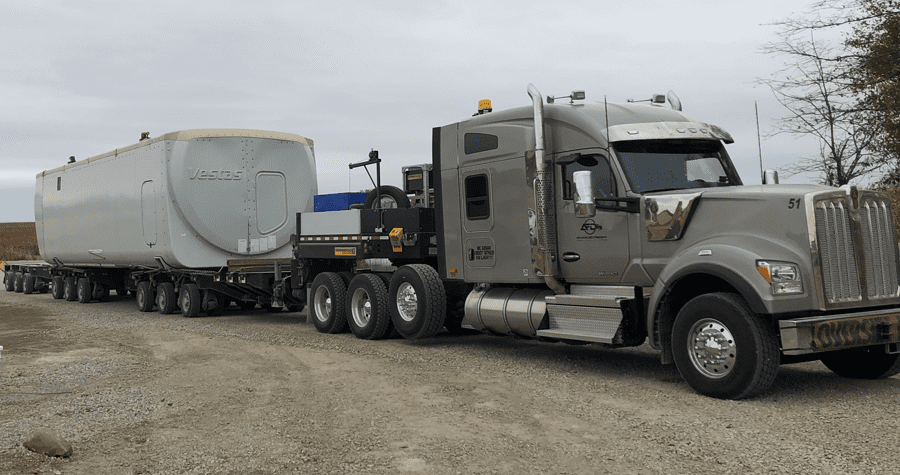 RP: What is the most interesting or unusual thing you have transported?
AL: We haul very specialized and unique pieces. In my opinion, pressure vessels are fascinating. Watching how the trucks and trailers maneuver with the pressure vessel loaded always puts me in awe of each and every individual in our organization who makes this job happen, from the team on the ground while in transit, all the way to the back-office personnel who spent weeks to months preparing for this haul. I greatly appreciate and respect every single one of our employees and contractors. The largest pressure vessel we hauled weighed 240,000 pounds.
SL: There are quite a few loads we have transported I feel should be in this category. We hauled a flight simulator for NASA, which wasn't heavy, but it was tall and wide. I spent over a week running routes that NASA would approve for the transport of their load. We went out and bought a mini deck trailer just to haul this load because of the height – and all of the trees we had to avoid. Then we had our first load on our 19-axle steerable trailer that weighed 240,000 lbs. with a gross weight of 370,000 lbs. With the careful planning of our team, this first super load went perfectly and gained our customers' confidence moving forward in this market.
RP: Do you have an example of a situation where someone had over-dimensional freight and no way to transport it until you stepped in and provided a solution? Are you able to do things other freight/transport companies can't?
AL: Things that we offer over other companies include always being brutally honest with everyone. When we work on initial strategies for upcoming projects, we work with our customers on potential hazards that may arise with the current engineered design during transport. Customers often appreciate our consulting service, as it is less expensive for them to address these situations prior to manufacturing. We have been able to save our customers hundreds of thousands of dollars by offering this service to them.
A situation where one of our customers didn't use our pre-manufacturing consulting service is when they manufactured several vessel pieces for an ethylene plant up in the Northeast. Even though the pieces were fabricated about 200 miles from the plant, the most efficient route the state would allow the trucks to take had a narrow bridge. Engineering didn't consider the transportation side of the project when they created the plans. Once our team was given the job, we carefully strategized and came up with an idea to create saddles to shift the vessel sections in order to clear the bridge structures. By creating this, we were able to move all the vessel pieces safely to the final destination while saving our customer over $500,000 in transportation cost.
Also, we are one of the select few companies in the United States that has specialized trailers, such as the Faymonville Highway Max 3, that can haul certain extremely heavy wind turbine sections. With our Faymonville trailers, we can haul loads more efficiently and deliver faster than other operable trailers pulled by the other trucking companies. When wind project coordinators have certain time constraints, they are often eager to have our equipment on the job as our turnaround time is incredibly efficient for them.
SL: As Alana stated above, the biggest job that we had to step in with was because nobody wanted to move the freight for what our customer had in the budget. We quickly stepped in for the design processes, explaining the widths and heights we needed to stay under to avoid police escorts and longer routing due to the bridge restrictions in route. Our customer had over 200 loads to ship on this route. We saved them over $2500 per load with our transportation plan, which helped them stay under their budgeted freight costs for this project.
RP: Even though ENERGIES Magazine focuses on renewables, what type of work do you do with oil and gas companies?
AL: We serve the onshore and offshore oil and gas industries by hauling the smallest oil tools, blowout preventers, pressure vessels, dryers and skids, all the way to the control buildings. We also offer Emergency Services 24 hours a day for all and any situations.
SL: We work with all the major oil companies shipping various oil field and gas line products. We serve upstream, midstream and downstream customers for all of their needs.
RP: Talk about how Advanced Freight Dynamics is getting into transportation for the wind industry.
AL: Over the past few years, we have made a huge push into the wind industry. We primarily focus on hauling the tower sections, nacelles, generators and hubs. We are able to load at any port or rail yard and transport to the specified laydown yard or all the way to the installation site. We are prepared for the new sections that are heavier and larger than the pieces that were fabricated years prior. Also, we are in the process of having our wind team be Wind Industry Transportation Professional Advanced Certification (WITPAC) certified through the Evergreen Safety Council.
SL: The trailers we purchase are so versatile that we decided when we have downtime [in other industries], these trailers are perfect to haul for the wind industry. We can transport every component in the wind industry except the blades. We have specially built saddles for our Faymonvilles to haul tower sections or take those off and haul Nacelles, drivetrains or Hubs.
RP: Do you do any work with the solar industry (transporting panels or other components)?
AL: We haven't done much work with the solar industry, but we are always ready for new opportunities.
RP: What insights can you offer regarding the current supply chain shortage, and also how has the ongoing lack of drivers affected the transportation industry?
AL: Regarding the current supply chain issues, where do I begin? Advanced Freight Dynamics is proud to be based in Conroe, Texas. Our State, county and city officials have all worked tremendously to get everyone back to work as quickly as possible, and we are all so blessed and thankful for all of them. The past two years have definitely been rough on the entire industry. During the beginning of the 2020 COVID situation, we shut down briefly, but our great state allowed us all to get back to work very quickly, which enabled us to keep all of our employees and to continue to grow as a company.
Unfortunately, other areas of the country were not this fortunate. COVID and politics created huge ripples in all aspects of transportation. Wind projects have been delayed due to overseas manufacturing delays, ship and port delays, and political red tape. The oil and gas industry is picking back up steadily, but then it all goes back to the fact that manufactures can't produce what is needed, as they may have let employees go during COVID, and now they cannot find replacements for the open spots. For instance, one of our customers has five production lines and is only able to use three, as they don't have the workforce to use all five lines, even though they have the workload to operate all five lines 24 hours a day.
Within our organization, along with the COVID situation, we have other challenges the trucking industry is faced with. Advanced Freight Dynamics can only hire very experienced and qualified people, which has been challenging as the older truck drivers are retiring, and the younger generations are not intrigued to learn and follow in the steps of their elder heavy haulers.
Another issue regarding the supply chain that the general public doesn't understand is the cost of shipping is going up due to many environmental factors. Also, due to the labor shortages at the ports and other facilities, the trucks are not able to load and unload as fast as they used to, which creates downtime charges. The cost of the trucking itself, including the trucks, trailers, every replacement part on a truck, all the way down to the tires, have increased in price to a point that is absolutely unfathomable. Our insurance costs are constantly increasing every year, even for companies such as ours with a great safety rating. Then, due to the current labor situation, drivers are making more money now. All of these growing costs lead to increased transportation costs, which lead back to the customer and all the way down to the general public.
SL: The supply chain shortages are making all trucking companies deal with unprecedented issues from the cost of tires to the cost of trucks going up at a rapid pace. We have seen three tire increases in the last four months. Right now, we can't even get some of the tires we use. It's hard to lock in any rates with customers as our operating costs as trucking companies go up within a month's time in today's world. We used to guarantee our rates up to 90 days, whereas we now tell customers our rates are good for 15 days.
The driver shortage is, I believe, the biggest obstacle all trucking companies will be dealing with from this day forward. Because we deal with specialty freight, there is only one percent of all drivers that can pull the trailers we have, which makes finding new drivers as hard as finding a needle in a haystack. We have hired five drivers this year and not one of them showed back up for work. That's when we realized they are now taking the hired papers to unemployment to extend the benefits they receive for not working. We have built our company around a family structure where we all work together to get the job done to the best of our abilities. We get calls from our customers praising how well our guys work together and it brings a smile to our face knowing what our company has accomplished. Now, when we hire new drivers, we actually are looking to see if they can fit in with our company as a family; otherwise, they will never make it working for our company.
When a customer calls to inquire about using our company for their shipping needs, they can rest assured that the job will be completed as professionally as possible and on time. Our customers know all of our drivers and have their phone numbers on hand, if they ever have any questions that need a quick response out in the field. It is a huge plus seeing the same faces hauling for our customers, as we don't have a big turnover rate with drivers. If anyone needs an honest, family-oriented company to help with their logistical needs, Advanced Freight Dynamics is that company.
Headline Photo: Advanced Freight Dynamics owner Steven Lyons and operations manager Alana Lyons standing by the Faymonville Highway Max 3. Photos courtesy of Tara Flannery Photography, LLC – www.taraflannery.com.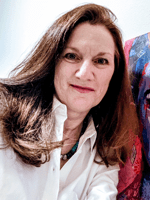 Rebecca Ponton has been a journalist for 25+ years and is also a petroleum landman. Her book, Breaking the GAS Ceiling: Women in the Offshore Oil and Gas Industry (Modern History Press), was released in May 2019. For more info, go to www.breakingthegasceiling.com.