Solutions all too often enter an industry and prove to be singular in effect. Their ability needs to extend past solving one issue, leaving a looming surplus of others that can still thwart business success. Black Powder Solutions (BPS), however, services the energy industry while offering innovative technology that increases profitability and enhances safety, and has a vast and effective impact on the environment.
While the contaminating substance inspired the company name, black powder plagues the energy industry as an abrasive ferrous and non-ferrous form of contamination found in both hydrocarbon liquid and gas systems. Its presence acts as kryptonite to equipment with rotary parts and drives maintenance costs higher than anticipated. It even significantly decreases the life span of expensive and specialized equipment. Additionally, it can increase downtime and reduce overall production.
Magnetic Separation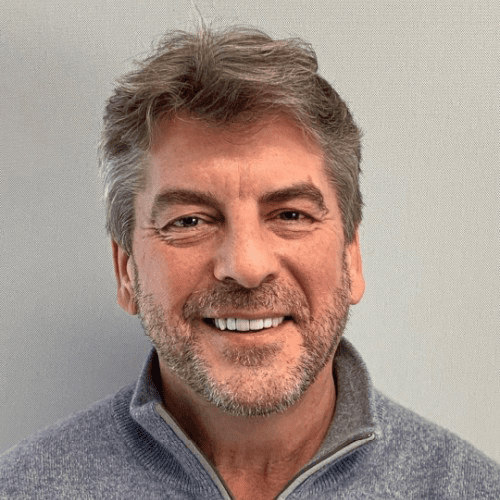 According to Roger Simonson, president of BPS, his company has developed a solution to combat this havoc-causing contamination. BPS designs and manufactures magnetic separator systems to remove the nano sized black powder wear contamination particles. BPS' magnetic separator systems feature inline, full-flow systems that extract ferrous and non-ferrous particles in hydrocarbon fluid and gas transmission lines. They are also employed on refining, chemical and gas plant processes, and refined product oil and gas pipelines.
BPS magnetic filters are engineered to achieve 99 percent or more effectiveness in removing black powder contaminants in all pipeline environments, required flow rates, pressure, temperature, and viscosity. Users benefit from either manual or semi-automatic and fully auto intelligent cleaning systems, with both requiring fewer consumables compared to conventional filtration methods.
"Traditional filters employed in oil and gas transmission lines and processing indicate 99.99 percent efficiency, keeping in mind this rating is realized in a laboratory multi-pass test system with contamination test products not in the actual oil and gas pipeline and process environments," says Simonson. "This begs a question: Is the consumer getting the true value as advertised on one pass product flow? One time use filters are expensive and require frequent change outs with extensive labor requirements and disposal costs."
While black powder contaminants negatively impact the upstream, midstream and downstream markets, magnetic separation is a game changer. BPS employs magnetic separation to drive profitability by increasing efficiency and extending equipment life, but its benefits surpass financial value. The cost to operate this solution is minimal and averages a six-month ROI with 22-plus years of continued service. This technology is having a serious positive impact on workplace safety and environmental impact.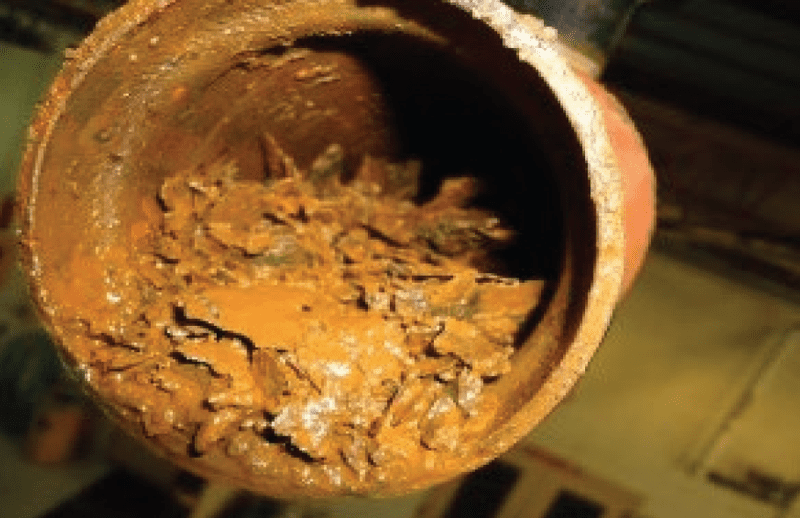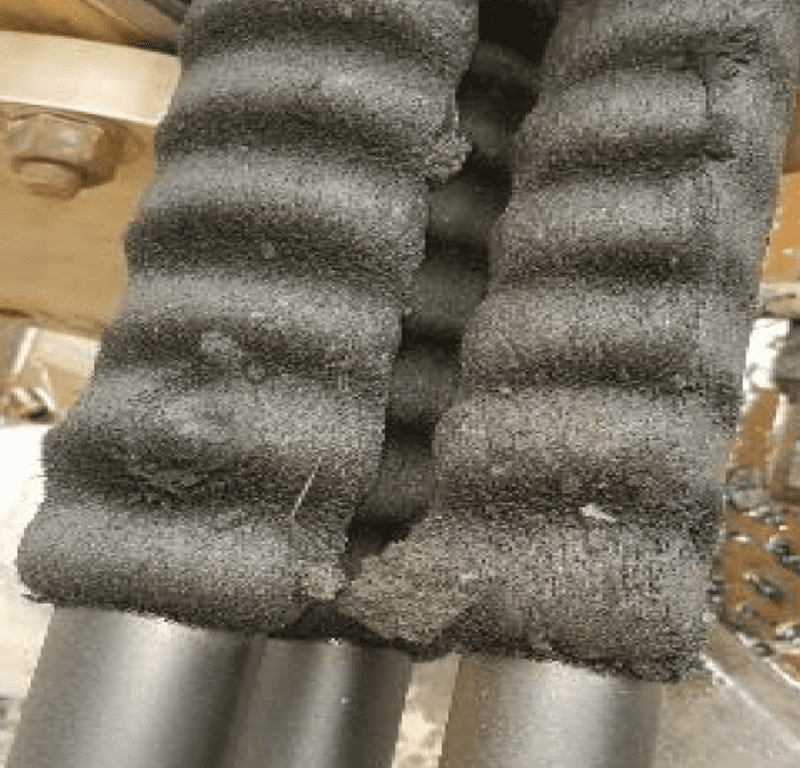 Enhancing Workplace Safety
When considering the impact made by black powder on human life, quantity plays a prominent role in analyzing the effect. Continual exposure intensifies the risk potential and increases the actual impact made. Traditional filtration methods carry multiple instances of filter replacement, from weekly to monthly over a year.
"Our systems lessen the frequency of touch points," says Simonson. "This reduces the potential for workers to succumb to injury and exposure to hazardous waste. We consider workforce safety and environmental impact paramount as well as realizing financial benefits."
Because BPS' patented magnetic separator technology simply requires cleaning and returning to service with minimal downtime, Simonson indicates minimal handling is needed to execute the task. The separator elements are wiped clean by a semi and or fully automatic cleaning system. "The waste is removed by a vacuum pump and then stored in a containment tank or container for disposal," says Simonson.
The black powder contamination samples are collected in a sample jar and sent to a laboratory for analysis. This is important to start gathering more data on black powder frequency, volume, material type and sizes.
BPS offers three different cleaning methods: manual, semi-automatic and fully automatic. No matter which BPS cleaning application the user selects, safety receives enhancements. Touchpoints see a decrease, therefore, instituting a positive influence. If the number of times the magnetic separator is handled, or if handling is managed more safely, the potential for incident or injury sees a welcomed decrease.
Excellent Strides in Preserving the Environment
Environmental detriment travels far beyond the realm of spills and negligent pollution. Basic activity and its duration can leave irreversible and harmful effects on the planet. BPS understands this notion and responds with its magnetic separator technology as its use exacts a limited impact. Every action taken exerts or dispenses energy use and, in a world that has highlighted the need to reduce the carbon footprint, emissions control begs for attention.
According to Simonson, BPS' Magnetic Separators contribute to the call to decrease the carbon footprint. BPS offers technology that carries a 22-plus years or more operational life. By containing increased life product durations, waste is minimized, benefiting the planet. Because the product life outperforms traditional methodologies, the energy exerted and spent to change out traditional filters continually is significantly reduced through BPS technology use. This reduction reduces emissions that are a danger to our planet. "In addition to offering limited touch points, our technology benefits the environment through reduced energy consumption," says Simonson.
BPS' technology offers an opportunity to reduce methane leakage from the well head to the end user. Cleaning the black powder wear contamination from the gas stream reduces the opportunity for damage to pipeline walls, valves, seals, compressors and combustion engines.
Reduction in consumption also surfaces in BPS' ability to avoid use of old technology disposable filtration. While traditional filters are discarded when their life span ends, BPS magnetic filters can be quickly cleaned and returned to service. The waste factor sees elimination along with the energy used to process and dispose of those consumables that become waste products.
Even if customer applications demand a combination of traditional filters and the BPS technology, environmental impact sees improvement. Because BPS' magnetic separators are installed ahead of the conventional filters, resulting in longer life of the conventional filters, thereby extending change outs, fewer touch points and environmental improvement. In simple terms, some form of positive impact is better than none. This analysis also knows no exceptions and applies to gas systems and hydrocarbon liquids.
"The more black powder found in gas and hydrocarbon liquid pipeline systems, the more energy is used to refine crude oil and separate liquids from gas," says Simonson.
Black powder operates as an irritant, which corrodes and erodes pipeline walls. Successful completion can result in disastrous effects ranging from spills impacting land and water to life and property. While making strikes in environmental improvement through traditional filter replacement, the BPS technology still offers environmental protection on more intense levels.
The environment can be spared by avoiding the loss of primary containment and keeping pipeline contents inside the piping by reducing wear. The BPS technology captures those particles that gather and collect over time to institute environmental incidents. Avoiding those releases protects the planet from pollution and, while doing so, can even aid in producing a cleaner product sent down the pipeline for purchase.
"The BPS technology can be placed in front of a system," says Simonson. "The gathering lines bring the oil and gas and water to a battery to separate [them]. Removing the black powder contamination released from the formation will allow the battery to operate more efficiently and require less intervention and down time to clean the black powder contamination from the battery or knockout drum. The oil and/or gas traveling down the sales line is cleaner, reducing pipe wall erosion and damage to pumps and compressors, meters and valves, and may demand a higher price."
A common theme throughout the energy industry exists as the reduction in nonproductive time drives an increase in profitability. While companies previously increased prices to turn greater profits, the new energy industry now increasingly directs more profits to shareholders. As a result, reducing downtime is now seen as an opportunity to increase profitability. BPS' magnetic separator technology enables this process, but its positive environmental impact is equally important.
Nonproductive time represents downtime for the operation at hand, but work is taking place from the service side of the equation. This generates abundant energy use in vehicles traveling the road to respond to the downtime notification, running machines and equipment to rectify the issue, and increasing waste as a byproduct. Magnetic separation will reduce this potential by allowing systems to operate more efficiently and eliminating the need for such services. By eliminating the need for repairs, the planet avoids exposure.
Widening the Impact
BPS' magnetic separator technology provides a win on all fronts for customers to enjoy well into the future. As the world seeks new processes and applications to provide energy, the sources will only grow in possibilities. All can utilize BPS' magnetic separator technology to give a cleaner and safer solution that will drive profits by reducing costly downtime in the form of a process that refrains from sacrificing one aspect of the job to show benefit to the others.
Nick Vaccaro is a freelance writer and photographer. In addition to providing technical writing services, he is an HSE consultant in the oil and gas industry with twelve years of experience. Vaccaro also contributes to SHALE Oil and Gas Business Magazine, American Oil and Gas Investor, Oil and Gas Investor, Energies Magazine and Louisiana Sportsman Magazine. He has a BA in photojournalism from Loyola University and resides in the New Orleans area. Vaccaro can be reached at 985-966-0957 or nav@vaccarogroupllc.com.