We hope you all are enjoying the summer – especially those of you who are taking a vacation – and that you will enjoy reading the latest issue of ENERGIES Magazine wherever you may be.
I first became aware of LanzaTech in 2020 (although it has been around much longer than that) when I received a press release announcing the carbon recycling technology company's partnership with beauty care giant L'Oréal and the French multi-energy company TotalEnergies. I will admit I was intrigued by the seemingly disparate trio. What could they possibly have in common? Building on a shared vision, they developed the first sustainable packaging made from captured and recycled carbon emissions.
This is just one of the many partnerships LanzaTech has formed, which span the spectrum of industries from cosmetic and clothing companies to steel manufacturers, resulting in what LanzaTech's Chief Sustainability Officer Freya Burton refers to as, "This completely new industrial symbiosis." In our cover feature with Aura Cuellar, the company's new EVP of Growth and Strategic Projects, Cuellar says, "My contribution to LanzaTech is helping us grow exponentially," as the company seeks to build more of its carbon recycling facilities around the world with the goal of creating what it calls "a post-pollution future."
Cuellar, who had a 24-year career with Shell before joining LanzaTech, is another example of how the line between the legacy and renewable energy workforce has blurred, with the skills and expertise being transferable from one sector to the other. The end result is new and innovative ideas of how the world can best transition to a net zero future.
Continuing with the theme of recycling, Emilie Oxel O'Leary, CEO and owner of Green Clean Solar, discusses what her company is doing to eliminate industrial solar waste "and transform pain points of the industry into sustainable, circular economy-style solutions." And cinematographer Susan Kucera, whose last three films have dealt with issues around climate change, shares the amazing results of her DIY solar projects on her homes in Washington State and Hawaii.
We hope you will find these articles and the rest of the issue interesting and informative, as you enjoy your summer! We look forward to bringing you the next quarterly issue of ENERGIES Magazine this Fall.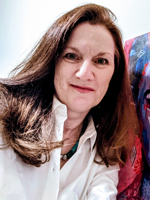 Rebecca Ponton has been a journalist for 25+ years and is also a petroleum landman. Her book, Breaking the GAS Ceiling: Women in the Offshore Oil and Gas Industry (Modern History Press), was released in May 2019. For more info, go to www.breakingthegasceiling.com.