Having covered solar and wind, the two leading forms of renewable energy in the U.S., in our two previous issues, in this edition of ENERGIES Magazine, we talk to CJ Warner, who has been involved in nearly every sector of the energy industry during her 45 year career. Currently a member of the Chevron board of directors, Warner shares her belief that refining, where she spent a large part of her career, has an important role to play "even in a very aggressive transition projection."
Warner is among the energy industry leaders who believe that it will necessitate an "all of the above" approach to meet the energy needs of the U.S. and the world, and that it will take the best minds to come up with innovative solutions. Warner, the former CEO of Sapphire Energy, shares what she originally thought was one of the "wackier" ideas – cultivating algae to produce renewable biofuels – and why she still believes the process has potential.
Taking an "all of the above" approach to our editorial content, with the upcoming Winter issue of ENERGIES, we will depart from our usual cover story interviews with industry leaders to feature a conversation with environmental activist and Academy Award winner Jeff Bridges, the narrator and co-producer of the climate change documentary, Living in the Future's Past. As the co-executive producer, he also appeared in the documentary, Hot Money, which explores the intersection of the global financial system and climate change.
Retired four-star Army General Wesley K. Clark and ALLY Energy CEO Katie Mehnert, who were also in Hot Money, will be featured on the covers of Oilman and Oilwoman Magazines, respectively. This provides us with the unique opportunity to connect all three of our platforms to illustrate how all sectors of the energy industry are interconnected and can work together to find solutions to the one of the most pressing issues facing the world today.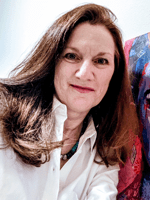 Rebecca Ponton has been a journalist for 25+ years and is also a petroleum landman. Her book, Breaking the GAS Ceiling: Women in the Offshore Oil and Gas Industry (Modern History Press), was released in May 2019. For more info, go to www.breakingthegasceiling.com.