Representing more than a decade of collaboration between its principals – Colin Touhey, an electrical engineer, Todd Dalland, a pioneering designer and inventor in the field of lightweight structures, and Robert Lerner, AIA, an architect who has led new technology development programs involving lightweight, deployable structures for NASA, the U.S. Army, and the U.S. Air Force – Pvilion is a small company based out of Brooklyn, New York, that designs and manufactures solar powered fabric products. In recent years, its team has grown to approximately ten members.
Well on its way to revolutionizing the alternative energy industry, Pvilion's market offerings include alternative solar solutions in the architectural, fashion, event, hospitality, disaster relief, municipal and military spaces, to name a few. Its product portfolio ranges from stand-alone solar canopies, solar military tents, grid-tied long span structures, and solar powered charging stations, to building facades, backpacks and clothing. While simple in theory, its integration of solar cells with fabric in order to build textile products that can generate electricity has been largely met with success over the past decade. Any surface that receives sunlight has the opportunity to be used as a surface that can generate electricity. As cofounder and CEO Touhey says, "That's the most exciting thing; [it's] incredibly thrilling."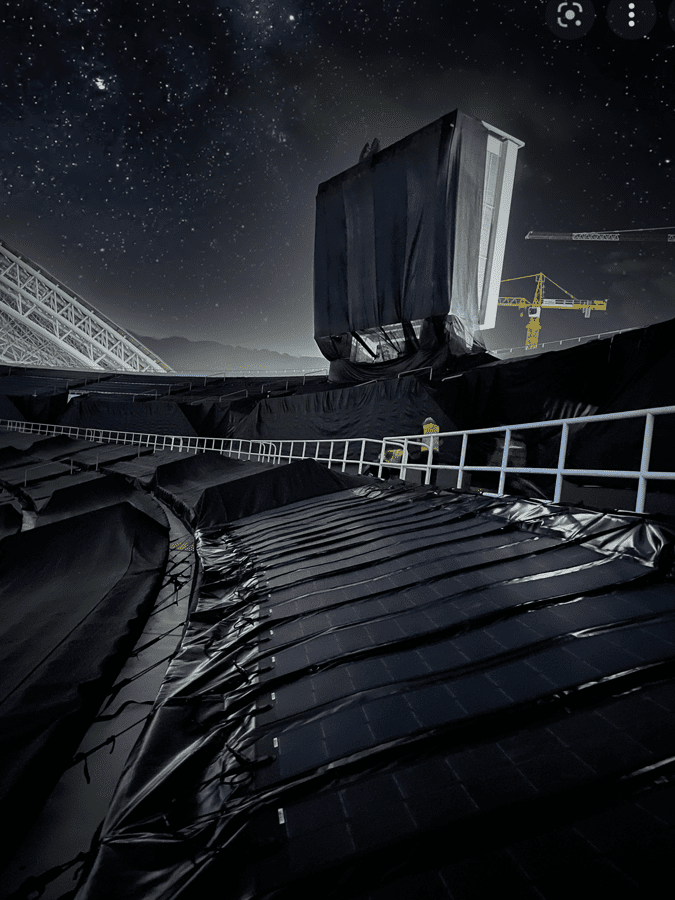 A Different Kind of Shade
For consumers and businesses that seek Pvilion's signature solar shade, it offers a convenient, customizable product line available for order. Customers can choose from permanent architectural pieces, semi-permanent canopies, and fully mobile structures. While its roots are well established in its local NYC community (including at the New York Botanical Gardens, New York Public Library, outdoor dining areas and other community gardens), you can find Pvilion's tents in many other settings wherever the sun shines around the globe.
Changing the Event Industry
Of course, not everyone that wants to incorporate more sustainable practices is in the market for a brand new tent. To offer a solution for those in the event industry that want to add solar capabilities to their own tents, Pvilion recently partnered with Anchor Industries, the largest tent manufacturer in the United States, to offer clip-on tent attachments that can be applied to pre-existing event tents. The clip-on attachments are easy to connect to all event tents and come with a fully integrated battery kit. These kits allow event hosts to set up anywhere and power their events fully off the grid, while reducing the need for harmful emission-emitting diesel generators.
Rocking the Solar Market
Recently, Pvilion has provided the Grammy-award winning band Coldplay and its production team with easy-to-transport solar fabric kits to help power their Music of the Spheres world tour. Beginning in Costa Rica, Pvilion's solar fabric kits are traversing the globe with the famous band. Lightweight and easy to set up and take down, the kits consist of sheets of Pvilion's solar fabric that can be built anywhere that receives sunlight. The fabric solar panels charge the kits' batteries through the day and power the stage underworld at night.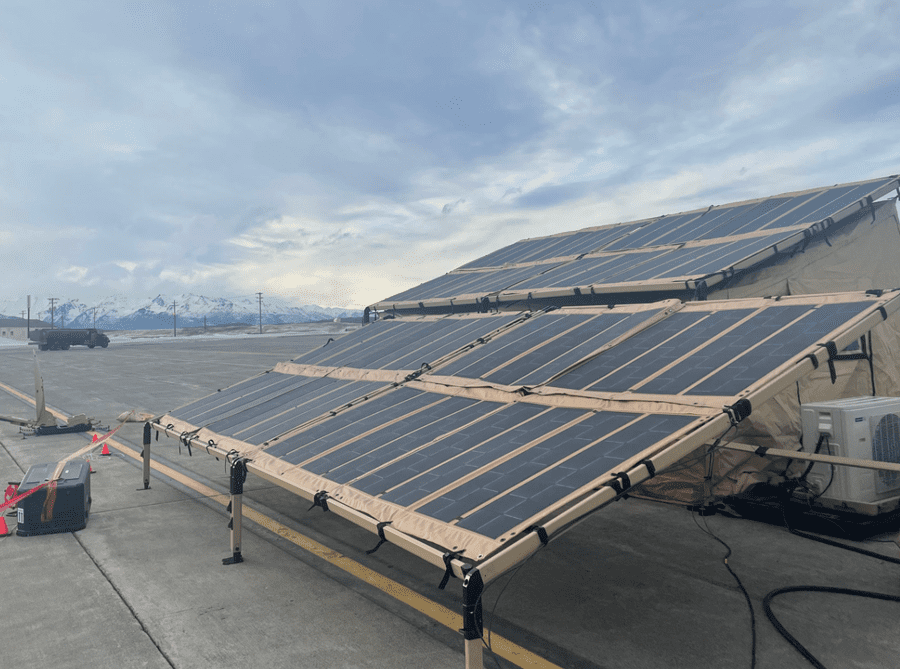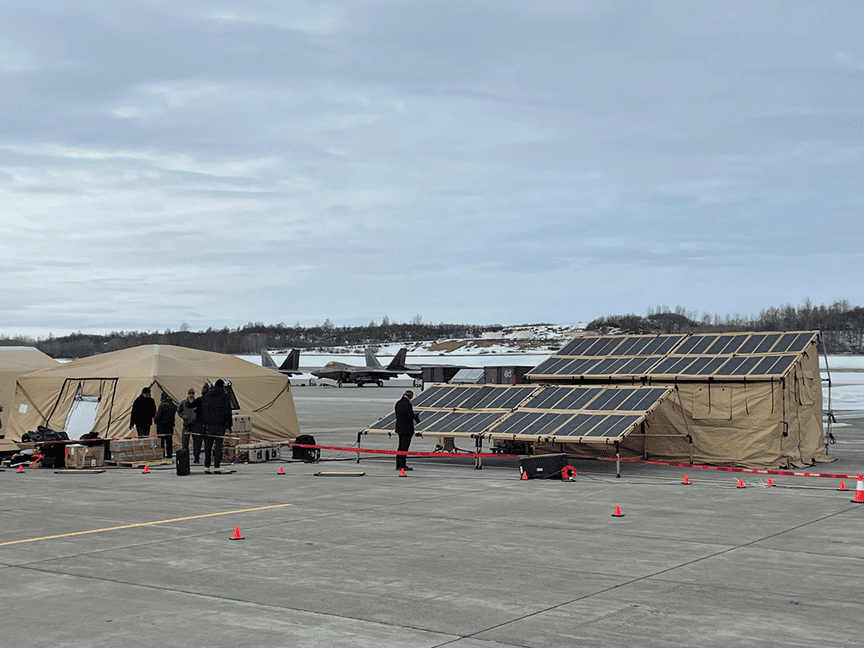 Defense
The small Brooklyn-based company isn't only changing the way it powers events and concerts. It is also working with the U.S. Air Force Rapid Sustainment Office to provide the USAF with sustainable tents for expeditionary use. The Solar Powered Integrated Structures (SPIS), or SPIS, are fully self-sufficient tent systems that include heating, air conditioning, lighting and power sources for plugging-in off the grid. Fully operational in both expeditionary and austere environments, they reduce emissions and the USAF's logistical footprint in any global setting.
Hospitality
Pvilion has also partnered with Zion Spirit Group to collaborate on the creation of rentable resort suites in Zion National Park in southwest Utah. These resort suites will feature sustainable designs and beautiful, organic-inspired architecture. In total, Spirit will create 36 suites and four homesteads for rent, directly adjacent to Zion National Park. Designed by Nomadic Resorts, the process of bringing these suites to life will begin later this year. Pvilion's contribution includes the namesake of the suites, as well as the design and fabrication of the leaf-shaped rooftops for the "Leaf Suites." Just like actual leaves, these beautiful rooftops will convert sunlight into energy and will use 25 kW of Pvilion's photovoltaic fabric technology.
Making a Shift
As the world makes the shift to more sustainable practices, alternative solar solutions like Pvilion's solar fabric offer a realistic solution. The state of California has already banned the use of fossil fuel-emitting portable generators in many settings, and others are expected to follow suit. There is unlimited potential for the integration of solar energy into non-traditional fabric surfaces. From awnings, to boat covers, to industrial structures, and everything in between, solar fabric offers a flexible opportunity to generate sustainable energy anywhere. While Pvilion offers its products directly to commercial consumers, it also maintains partnerships with businesses as an OEM provider of their solar fabric products, establishing it as a pioneer in the alternative energy industry.
For more information, go to www.pvilion.com.