When it comes to technology, research, innovation and development, it's important to have a spokesperson, just as I had Matt Carter, president and CEO of Carter Wind Energy, as my guest on an episode of National Energy Talk podcast, to discuss wind energy. Carter Wind Energy's corporate headquarters is located in Wichita Falls, Texas. Addressing what he and his company are focusing on, Carter talked about his early days leading up to his current involvement in wind energy.
"I was very fortunate to have grown up in a family, beginning with my great grandfather, grandfather and my father, that was very involved in energy projects, vehicle emissions projects, renewable energy projects, aviation projects – an entrepreneurial, innovative family. So, I'm very fortunate to have been exposed to so much of that. Following in the family footsteps out of high school, I decided to get my mechanical engineering degree, and went to Texas Tech University. I knew I'd be a third generation. My grandfather and father both graduated as mechanical engineers from Tech. From having been in our aviation business and our wind energy business, I was always interested in things that went around and around and displaced stuff, wind or air. I was very fortunate to get a job at Bell Helicopter in Fort Worth, Texas, designing rotors. That was a great opportunity for me to get to know about the different rotor systems and how they operate. Knowing that I wanted to get back into the wind energy business, I took a job with one of the largest wind energy developers in the U.S., Florida Power and Light (FPL Energy), known as Nextera now. I learned a lot about the wind business working with them as well."
As the company profile states, today, as a third-generation business, Carter Wind Energy has successfully engineered and manufactured wind turbines longer than just about anyone. The experience in aviation, wind energy and manufacturing has not only helped it garner a considerable number of patents, but it also has inspired the company to help millions of people around the globe enjoy the indispensable benefits of accessible, low-cost power with the world's most innovative wind turbine designs. As an industry leader with more than 50 years of wind energy experience, Carter has been a pioneer of the light-weight, self-erecting, two-blade wind turbine design. The first turbine was built in 1976 and sold in 1979 to the U.S. Department of Agriculture in Bushland, Texas. In 1982, turbines were installed in the first commercial wind farm in San Gorgonio, California, and in Texas in 1992.
Carter states, "Carter Wind Turbines is expanding its operations and building a new manufacturing facility in Lawton, Oklahoma. We see a tremendous market globally for what we call distributed wind for industrial customers. Whether it's an oil and gas producer, a mining operation or a remote electric village cooperative that's off the grid and operating on diesel for its electricity, they cannot use the large wind turbines and the small wind turbines aren't large enough. It's a very large market, actually, globally."
To learn more about Carter Wind Turbines, go to www.carterwind.com. Also, you can listen to the National Energy Talk podcast episode with guest, Matt Carter.
Headline photo courtesy of Carter Wind.Model 300 San Gorganio Wind Farm. Left: Model 300 Nacelle Service Orton.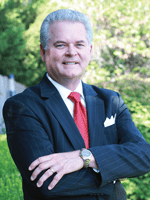 Mark A. Stansberry, Chairman of The GTD Group, is an award-winning author, columnist, film and music producer, radio talk show host and 2009 Western Oklahoma Hall of Fame inductee. Stansberry has written five energy-related books. He has been active in the oil and gas industry for over 44 years, having served as CEO/President of Moore-Stansberry, Inc., and The Oklahoma Royalty Company. He has served as Chairman of the Board of Regents of the Regional University System of Oklahoma, Chairman 2016-2017 of the Gaylord-Pickens Museum/Oklahoma Hall of Fame Board of Directors, Lifetime Trustee of Oklahoma Christian University, and Board Emeritus of the Oklahoma Governor's International Team. He has served on several public and private boards. He is currently on the advisory board of IngenuitE, Inc.